Print Friendly
Draft General Development Plan, July 1977, Crater Lake National Park, Oregon
 Development Concept
Rim Village
Although the National Park Service goal is to eliminate congestion and visitor-use conflicts in the Rim Village area, it recognizes that the area will remain a focal point for visitor use. While some congestion will inevitably remain, conflicting visitor uses can be minimized through a planned location and design of the Rim Village facilities.
Year-long interpretive and viewing facilities are essential. Pedestrian walkways, a small picnic area, and rest room facilities are also proposed. Parking space will be redesigned to minimize interference with the prime viewing zone of the rim and pedestrian traffic.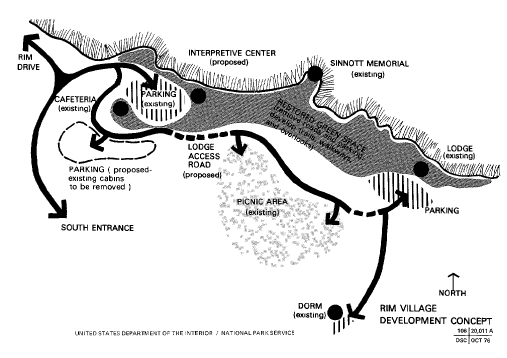 The major concessioner-operated visitor-use facilities in the Rim Village will continue as long as the structures retain a useful life and their operations are economically viable. Crater Lake Lodge, a historic structure, has been determined to be eligible for inclusion in the "National Register of Historic Places" and will be maintained as a first-class lodge. Any refurbishing and maintenance will be done in a manner that retains its historic character.
The plan for the Rim Village calls for the following:
Relocate approximately 185 parking spaces and associated small roads along the rim, and remove the four comfort stations, exhibit building, community building., and 20 concessioner rental cabins.
The key to implementing the plan for the Rim Village lies in the removal of the rental cabins. When this is accomplished, other successional elements of adjustments of the rim facilities can begin.