Print Friendly
Draft General Development Plan, July 1977, Crater Lake National Park, Oregon
 Development Concept
Annie Springs
Mazama Campground: The campground will be expanded. The 52 new sites will be designed for tent camping, with several sites grouped around small parking areas. The visitors will have the option to choose between the drive-in sites of the existing campground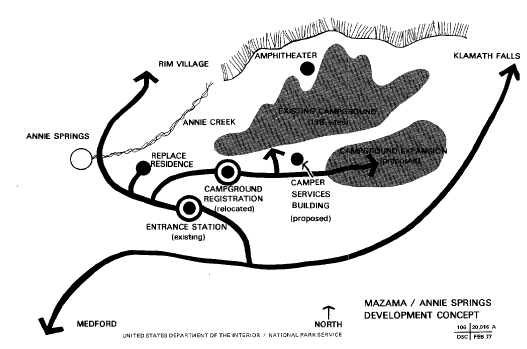 or the added less structured sites. Two new comfort stations will be required to serve the new campsites and the existing road will require some reconstruction to develop parking spaces and a more pleasant alignment. The registration kiosk will be relocated on the campground approach road. Capacity of the campground will be increased from 198 sites to 250 sites with the new development. The obsolete ranger residence will be replaced.
Camper Service Facilities: A concessioner-operated camper services building will be built near the campground entrance, providing groceries and supplies. These items are presently sold in the cafeteria building in the Rim Village. Relocating this function from the Rim Village should aid in relieving congestion since campers will no longer have to drive to the Rim Village to obtain supplies.
Other camper services such as shower and laundry facilities have been suggested. The need for and desirability of these services will receive further evaluation.
The present sanitary dump station needs some improvement to make it a more functional and sanitary operation. A potable water supply is also needed. Major renovation is not required and the improvements can most likely be accomplished as a part of the maintenance program.
Future Visitor Service Facilities Consideration: If future demands and a proven need for additional facilities or relocation of some of the facilities within the park arise, consideration should be given to the Annie Springs area as a possible site location. Adequate utility systems exist, and the areas impacted by previous use are suitable to new development.
Such long-range possibilities will be subject to further analysis and planning prior to any action.