Print Friendly
Draft Winter Use Plan, Crater Lake National Park, Oregon, 1994
Preface
A FEW WORDS FROM THE SUPERINTENDENT
We are pleased to present the draft Crater Lake National Park Winter Use Plan and Environmental Assessment for public review and comment. This plan is the result of a careful analysis of park resources and past, existing and anticipated winter use in the park and the surrounding region. Four potential winter use scenarios were developed as a basis for gathering public comment. The National Park Service conducted a series of four public meetings in mid-January to describe the planning process and solicit public input. In addition to the verbal comments received, a total of 98 written comments were received. While diverse views were expected and presented, the preferred alternative of the draft plan is consistent with a majority of the comments received.
A second series of public meetings is scheduled May 9 through 13 during which the planning team will describe and respond to questions about the four winter use alternatives considered and the selected strategy. Alternatives under consideration for the Development Concept Plan, a separate but related planning document, will also be presented at the same public meetings. The Development Concept Plan will be the subject of a newsletter to be issued later this month. Together, these two plans will set the future directions for winter use policies and an appropriate, long-term, development program.
The schedule of the public meetings is as follows:

Comments on the draft plan are encouraged and will be accepted until May 31, 1994. Please send written comments to David K. Morris, Superintendent, PO Box 7, Crater Lake National Park, Crater Lake, Oregon 97604. Following an analysis of verbal and written comments, a copy of the final Crater Lake National Park Winter Use Plan and record of decision will be distributed to those who request a copy.
Your interest in and comments concerning the future of winter use in Crater Lake National Park have been very useful in the preparation of this draft Winter Use Plan. Th nk you.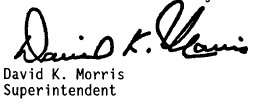 David K. Morris
Superintendent
— next >>