Print Friendly
Social Impacts of Design Alternatives, Crater Lake National Park
 VISITOR INFORMATION NEEDS
Providing visitors with information is an important part of the Park Service mission. An old addage indicates that "Nothing is more useless than the answer to an unasked question," and scientific evidence suggests that information has little effect on behavior except when it fits with an individual's needs and motivations. An important part of informing the public, then, is figuring out how to give people the information they need when they need it. To explore this issue at Crater Lake we asked park personnel to tell us about the questions people ask. At the end of each work day, entrance station, campground, kiosk interpretation, and patrol rangers reported the three most asked questions. Responses were tallied to show the most common concerns of visitors at different sites.
As people enter the park their most common questions concern a place to stay. Are there campgrounds? Where? Are they full? (See Table 7). The next concern is about the location of the lake, a question asked frequently at Annie Springs but not at the North Entrance. We think this is because a sign just before the North Entrance station says "Crater Lake 10," while there is no such sign at Annie Springs. Other visitor concerns include lodging, directions, and fees, but at the entrance stations people appear most interested in finding the lake itself and/or a place to stay.
Once they reach the campground, visitors have some more specific concerns (see Table 8). The most common question is still about the location of the lake, but other questions reflect the need to "get settled." Visitors want to know about such things as firewood, availability of sites, showers, campfire programs, and bears.
Once people get to Rim Village they have questions about finding other things in the park (see Table 9). The most common question asked of patrol rangers in the Rim Village parking area is about the location of Rim Drive; there appears to be a fair amount of confusion because there is no sign at the Rim Village turn off showing the direction of Rim Drive. Other questions involve the location of the service station, tour boats, lodge, campground, and visitor center.
Table 7. Information needs: entrance stations.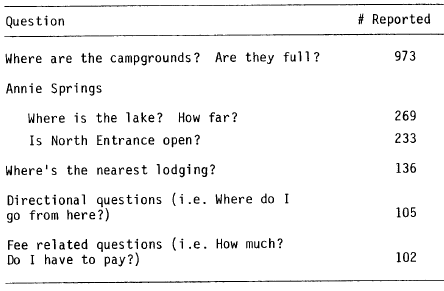 Table 8. Information needs: Mazama Campground.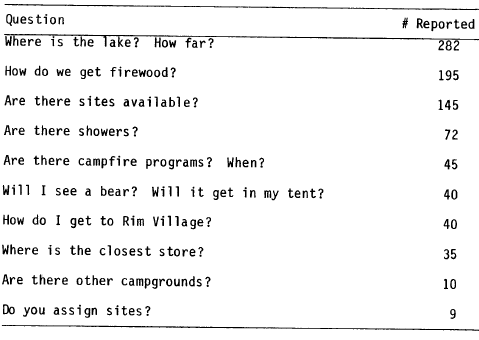 Table 9. Information needs: Rim Village parking lots.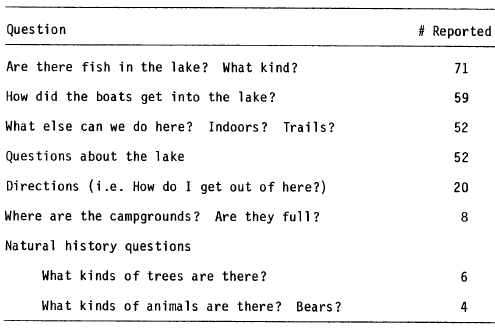 Questions asked in the interpretive buildings are listed in Table 10. The most common questions are about fish and boats in the lake. Beyond this, people want to know about other activities, miscellaneous questions about the lake, and a few directional questions. It is interesting that in general people ask these kinds of "interpretive" questions only at the interpretive facilities and not at other locations.
IMPLICATIONS FOR MANAGEMENT
These findings suggest two major conclusions. First, information needs are not the same for all locations. People at the entrance stations want to find the lake or a place to stay, while those in the interpretive facilities want to know details about the lake itself. It may be desirable to accommodate these differing needs in designing information systems, although this is done to some extent already.
Second, there is a great deal of commonality in the questions asked. For each location, the vast majority of questions concern a small number of topics, and it appears that park personnel answer the same few questions over and over again. For some visitors this provides the only personal contact with park personnel, but it also ties up park employees with simple questions, perhaps preventing them from dealing with more interesting issues. It may be desirable to answer the most common questions with "broadcast" approaches such as signs, brochures, or interpretive talks, leaving the more interesting items for personal contacts.
Table 10. Information needs: interpretive facilities.