Print Friendly
Crater Lake National Park: Administrative History by Harlan D. Unrau and Stephen Mark, 1987
CHAPTER FIFTEEN: Visitation And Concessions Operations In Crater Lake National Park: 1916-Present
As one of the "jewels" of the embryonic National Park System, Crater Lake National Park became the focus of Park Service publicity efforts to promote visitation. In 1917 the bureau issued an automobile guide map (a copy of which may be seen below) for the park. The map showed automobile highways leading to the park as well as the park road system, visitor accommodations, trails, and points of interest.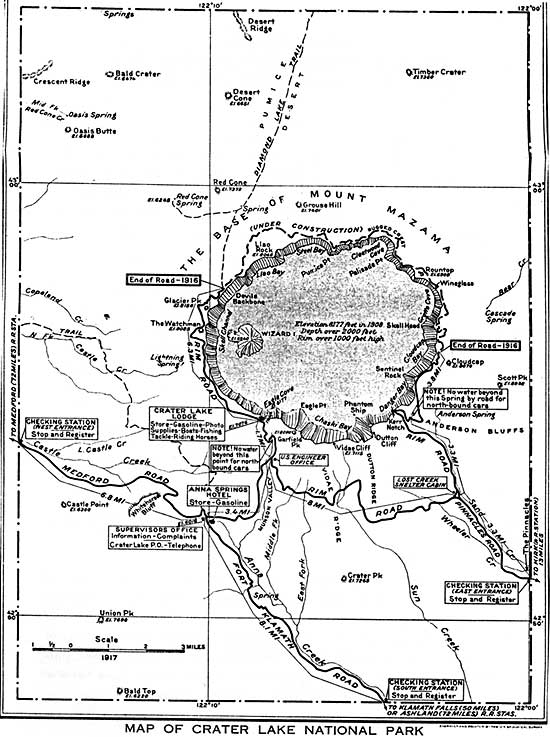 At the behest of NPS Director Mather, the Crater Lake publicity effort was supported by the Southern Pacific Railroad and the National Parks Highway Association. The railroad promoted travel to Yosemite, Sequoia, Lassen Volcanic, and Crater Lake national parks with various excursion fare offers. As a result of negotiations between Mather and the railroad, tickets between Portland and California points during 1917 entitled purchasers to stop over at Medford for a trip to Crater Lake. If a traveler entered the park via one gateway and left by another, his ticket was honored for continuation to his destination. Hence it was possible to go to the park from Klamath Falls and exit out the western gateway to Medford in connection with a trip to Portland. On the other hand, a party bound for California was permitted to stop at Medford, go through the park, and connect again with the Southern Pacific Railroad lines at Klamath Falls.
The National Parks Highway Association, with headquarters in Spokane, assumed leadership in designating a park-to-park highway connecting the major national parks in the West. During the spring of 1917, the association mapped and sign-posted a route from its terminus of the previous year in Mount Rainier National Park to Crater Lake, thus connecting Yellowstone, Glacier, Mount Rainier, and Crater Lake national parks by what was known as the National Parks Highway.
In addition to these efforts, the National Park Service continued the practice of the Department of the Interior in publishing annual general information circulars for the parks. The 1917 circular for Crater Lake not only described the park's scenery and resources in glowing terms but also its visitor accommodations, transportation facilities, and means of reaching the park. The circular described the lake as an "unforgettable spectacle":