Print Friendly
Crater Lake National Park: Administrative History by Harlan D. Unrau and Stephen Mark, 1987
CHAPTER FIVE: General Administrative Considerations for Crater Lake National Park: 1902-1916
C. LAND ISSUES IN CRATER LAKE NATIONAL PARK: 1902-1916
At the time of the creation of the park there were fifteen land entries within its boundaries, totaling 2,395.33 acres. Twelve of these, incorporating 1,914.22 acres, were patented by 1908. Homestead entry No. 2415 (160 acres) of John Fitzgerald for S. 1/2 N. 1/2 of Sec. 17, T. 32 S., R. 7-1/2 E., was canceled by the General Land Office on November 13, 1908. Homestead entries Nos. 2620 and 2660 of John Wallace Dickey and Louis Stanosheck, totaling 321.11 acres, were canceled in 1909. Included in the total of 2,395.33 acres was a considerable portion of Homestead entry No. 2415 and timber land entries Nos. 2116 and 2120 (patented to Daniel M. and Arthur C. Griffith by 1908), which extended beyond the park boundary line. [4]
The title of the State of Oregon to school sections 16 and 36 within the park boundaries had been extinguished before the creation of the park by selection of other lieu lands. The only exception was a tract of 192.20 acres in the N. 1/2 of sec. 16, T. 32 S., R. 7-1/2 E., which was disposed of by the state to private parties by 1908. [5] (See the following maps showing land entries in the park in 1904 and 1906).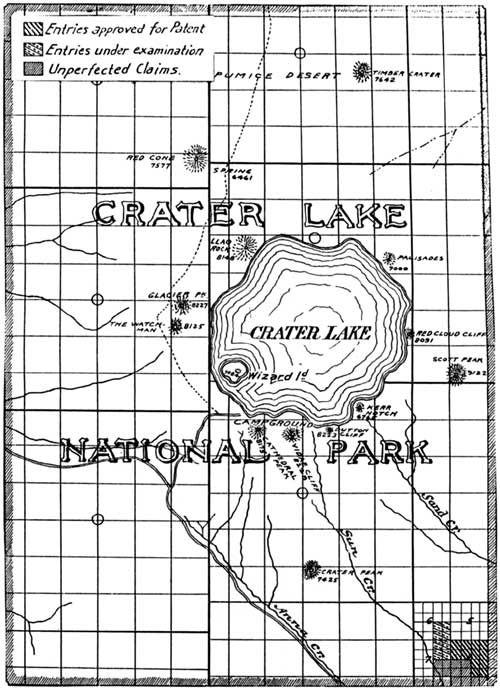 Annual Report of the Department of the Interior, 1904, I, following p. 435.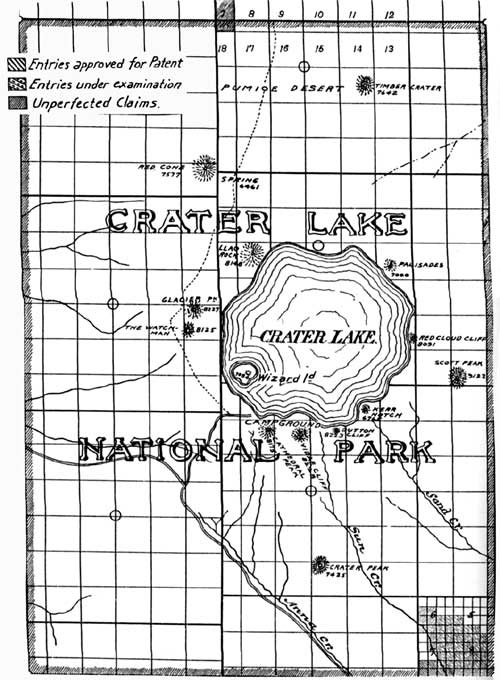 Report of the Superintendent of Crater Lake National Park, Oregon, to the Secretary of the Interior, 1906, following p. 12.