Print Friendly
Big increase in visitors shown by Crater Lake
Oakland Tribune
Oakland, California
July 25, 1926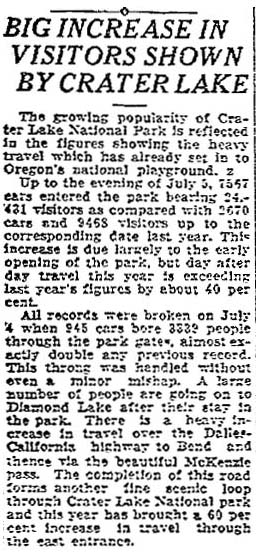 The growing popularity of Crater Lake National Park is reflected in the figures showing the heavy travel which has already set in to Oregon's national campground.
Up to the evening of July 5, 7567 cars entered the park bearing 24,431 visitors as compared with 2670 cars and 9468 visitors up to the corresponding date last year. This increase is due largely to the early opening of the park, but day after day travel this year is exceeding last year's figures by about 40 per cent.
All records were broken on July 4 when 945 cars bore 339 people though the park gates, almost exactly double any previous record. This throng was handled without even a minor mishap. A large number of people are going to to Diamond Lake after their stay in the park. There is a heavy increase in travel over the Dalles-California highway to Bend and thence via the beautiful McKenzie pass. The completion of this road forms another find scenic loop through Crater Lake National park and this year has brought a 60 per cent increase in travel through the east entrance.