Print Friendly
Crater Lake Lodge Opens Wednesday
Oakland Tribune
Oakland, California
June 5, 1938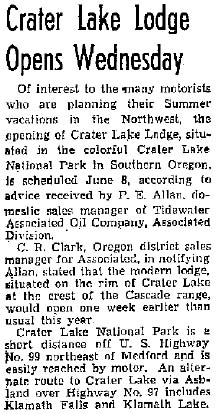 Of interest to the many motorists who are planning their Summer vacations in the Northwest, the opening of Crater Lake Lodge, situated in the colorful Crater Lake National Park in Southern Oregon, is scheduled June 8, according to advice received June 8, according to advice received by P. E. Allan, domestic sales manager of Tidewater Associated Oil Company, Associated Division.
C. R. Clark, Oregon district sales manager for Associated, in notifying Allan, slated that the modern lodge, situated on the rim Crater Lake at the crest of the Cascade range, would open one week earlier than usual this year.
Crater Lake National Park is a short distance off U. S. Highway No. 99 northeast of Medford and is easily reached by motor. An alternate route to Crater Lake via Ashland over Highway No. 97 includes Klamath Falls and Klamath Lake.