Print Friendly
Former Yosemite Park Aide is Honored for 35 Years of Service
The Fresno Bee
Fresno, California
November 25, 1952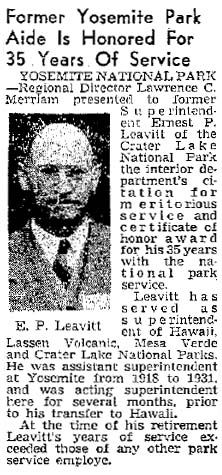 Yosemite National Park — Regional Director Lawrence C. Merriam presented to former Superintendent Ernest P. Leavitt of the Crater Lake National Park the interior departments citation for meritorious service and certificate of honor award for his 35 years with the national park service.
Leavitt has served as superintendent of Hawaii, Lassen Volcanic, Mesa Verde and Crater Lake National Parks. He was assistant superintendent at Yosemite from 1918 to 1931, and was acting superintendent here for several months, prior to his transfer to Hawaii.
At the time of his retirement Leavitt's years of service exceeded those of any other park service employee.