Print Friendly
Roads to Crater Lake are Open
The Modesto Bee
Modesto, California
November 15, 1965??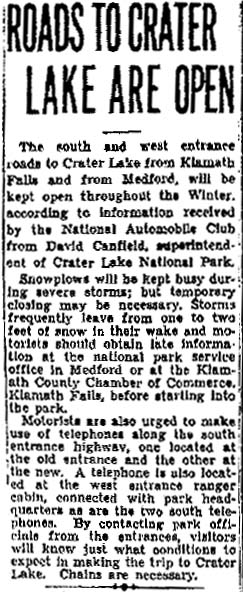 The south and west entrance roads to Crater Lake from Klamath Falls and from Medford, will be kept open throughout the Winter, according to information received by the National Automobile Club from David Canfield, superintendent of Crater Lake National Park.
Snowplows will be kept busy during severe storms; but temporary closing may be necessary. Storms frequently leave from one to two feet of snow in their wake and motorists should obtain late information at the national park service office in Medford or at the Klamath County Chamber of Commerce. Klamath Falls, before starting into the park.
Motorists are also urged to make use of telephones along the south entrance highway, one located at the old entrance and the other at the new. A telephone is also located at the west entrance ranger cabin, connected with park headquarters as are the two south telephones. By contacting park officials from the entrances, visitors will know just what conditions to expect in making the trip to Crater Lake. Chains are necessary.