Print Friendly
Campsites going fast
Mail Tribune
Medford, Oregon
July, 1998
By BILL KETTLER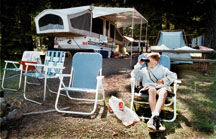 Photo by JIM CRAVEN
Timothy Carlson, 9, of Camas, Wash., looks at ducks at his campsite at Howard Prairie Lake on Wednesday. He and his family got their campsite earlier in the week. Spaces are going fast in advance of the Fourth of July weekend.
Mild weather on tap for 4th
If you want a place to camp this long Independence Day weekend, you'd better get busy.
Campgrounds were filling fast on Wednesday as Southern Oregon prepared to celebrate the July 4 holiday. Vacant space was expected to disappear at most campgrounds by late today because many businesses have given their employees a Friday holiday to compensate for July 4 falling on Saturday.
Jackson County's campgrounds were already half-full by Wednesday, said county campground manager Randy Hutton.
"I think everybody's ready to go because Memorial Day was such a washout," Hutton said. "Everybody's two months behind on their recreational season."
Lake of the Woods campground "is going to be full if it isn't already, by Thursday night," said Frank Erickson, of the Winema National Forest.
Cool air that settled over the Rogue Valley Wednesday should persist through the weekend, making for pleasant weather and cooler-than-normal days.
"We're not forecasting anything over 85 (degrees) for the next couple of days," said Marc Richard of the National Weather Service's Medford station.
Richard said the cool, moist air could bring morning clouds and scattered afternoon thundershowers through the weekend, but the likelihood of rain in any given area would only be about 20 to 40 percent.
"The odds that you're going to get wet on this weekend are kind of long," he said. "It really is going to be a fairly comfortable weekend."
Besides the usual holiday parades scheduled for Ashland, Eagle Point and Central Point, fireworks will light up the twilight sky in Ashland, Eagle Point, Central Point, Lake of the Woods and Diamond Lake.
The displays traditionally start at dusk — about 9 p.m. — or later.
At Crater Lake National Park, deep winter snow has prevented road crews from opening the scenic Rim Drive around the lake. The north entrance to the park off Highway 230 is open, however, and the road is drivable between Rim Village and the north entrance.
"This is the most snow this late in the season I can remember at Crater Lake," said John Miele, a park employee for 12 years.
Miele said the park's Mazama Campground is open, but snow is just now disappearing from some campsites and mosquito populations are healthy.
"Bring along some insect repellent," said Miele, "and definitely bring some sunglasses."
On Mount Ashland, Forest Road 20 (the road east of the Ski Ashland parking lot) has been opened to vehicle traffic as far as the Grouse Gap shelter. But farther east much of the road and parts of the Pacific Crest Trail are still buried in snow, said Steve Johnson of the Rogue River National Forest.
Johnson said most south- and west-facing mountain slopes are snow-free below 7,000 feet, but northern and eastern slopes still may have substantial snow accumulations above 6,200 feet.
Johnson said most Forest Service campgrounds will fill during the weekend.
People can get last-minute information about campsite availability by calling ranger district offices in Prospect (560-3400), Butte Falls (865-2700), Ashland (482-3333) and Applegate (899-1812).