Print Friendly
Making tracks at Crater Lake: guide shares insights with snowshoers; his knowledge of the lake is legendary
Herald and News
Klamath Falls, Oregon
February 24, 2002
By LEE JUILLERAT
Lloyd Smith forged quickly ahead, not because he was competitive but, as he had explained earlier, so that he could stop, catch his breath and once the rest of group of snowshoers caught up with him, talk without gasping.
Having spent good portions of 54 years at Crater Lake National Park, Smith had plenty to talk about.
Smith's knowledge of Crater Lake is legendary.
His first visit was made as a young boy with his grandfather.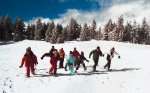 Snowshoers run a "race" during Lloyd Smith's guided walk along Crater Lake's rim.
"I was awed," he remembers.
Years ago, when he and his brother, Larry, were seasonal park rangers, they began compiling the "Smith Brothers History of Crater Lake," an ever-expanding chronology of park events significant and minuscule.
Twenty-three of his most memorable years were spent working as a seasonal ranger, a summer job that included time building trails, serving on search and rescue teams and, just like this day, leading park visitors on a hike.
These days, the 62-year-old Smith is retired and living in Washington state, so his Crater Lake visits are less frequent. But when he returns to Southern Oregon, Smith still needs his Crater Lake "fix," so he serves as a park volunteer.
Because it's winter, the hike Smith was leading followed no trail. He led the way on snowshoes, leading snowshoe walk participants on an ambling trek that weaved through the hemlock forest behind the park's Rim Village.
"Are you afraid of heights?" asked Smith as the breathless group of snowshoers caught up with him.
After giving them just enough time to be confused, he smiled and explained, "We're 10 to 12 feet above the ground here. That's how deep the snowpack is."
For nearly two hours Smith provided lessons in park history, geology and trivia with an easy sense of humor, and awe.
"Look at this view," he exhorted several times during breaks, once as snow-burdened trees framed a picture-perfect view of Crater Lake Lodge, another time while wandering Doctor Zhivago style across an expansive snowfield. "No one else in the world is seeing what we're seeing, experiencing what we're experiencing."
Smith weaved in history while evoking memories of first views by early explorers. He told about John Wesley Hillman, the first non-Indian to see the lake, and William Steel, known as the "Father of Crater Lake" for his 17-year effort that resulted in Crater Lake being designated a national park 100 years ago.
Smith stopped at an overlook where the original road winded its way to the rim, made a long pause at areas where the lake view was broader than any camera's wide-angle lens.
And, just for fun, another time he called a halt and asked, "Who wants to race?"
Most of the group lined up side-by-side and, on his command, galloped toward a lone tree poking up through the snow, the sound of snowshoes "fwoop-fwooping" and people huffing and gasping for air.
Anyway it's done, including walking or racing on snowshoes, seeing Crater Lake and its snow-covered world by winter is a breath-taking experience.
* * *
Chances to experience Crater Lake in its ever-changing winter beauty are offered Saturdays and Sundays during guided snowshoe walks. The park provides the snowshoes, while participants are responsible for their own warm clothing, including boots, gloves, hats and jackets. The walks begin at 1 p.m. from the Rim Village Area, but participants are asked to meet at the Steel Information Center in the park headquarters area at 12:30.
Groups can sometimes arrange special tours by contacting the park's information center, which is open 10 a.m. to 4 p.m. daily and can be reached by calling (541) 594-3100.