Print Friendly
Lost skiers find searchers
Herald and News
Klamath Falls, OR
January 24, 2002
By KEHN GIBSON
Rescuers, missing pair meet on East Rim Road
CRATER LAKE — Two skiers missing since Saturday in Crater Lake National Park skied out under their own power Wednesday afternoon after being trapped by a snowstorm that dumped more than 3 feet of snow on the park.
David Schuler and Kate Gessford woke up at dawn Wednesday and noticed something different — for the first time in nearly five days, it wasn't snowing.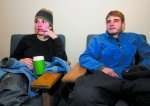 Sitting in the comfort of the Crater Lake National Park Ranger station Wednesday night, Kate Gessford and David Schuler talk about their harrowing six days in the wilderness at Crater Lake.
Rolling out of their sleeping bags, Schuler built a fire as Gessford began to strike their tent and load her pack.
"It was supposed to be a signal fire, but there wasn't any chance it was going to be seen," Gessford said Wednesday evening at park headquarters after being fed and given fluids. "It was a low, thick overcast. Everything was gray."
"It was time to get out of there," Schuler said.
Schuler and Gessford, subjects of the park's most intensive search in the past 10 years, did just that. At 5 p.m. Wednesday, tired and hungry, they skied up to a small group of searchers sitting in a Sno-Cat on the lake's East Rim Road, just 3 miles from the park's headquarters, bringing the search to a happy conclusion.
The search's ending was testimony to Schuler and Gessford's perseverance and the tenacity of the people looking for them.
* * *
A biochemistry major at Portland's Lewis and Clark University, Gessford stands just over 5 feet tall and smiles quickly. The ski trip around Crater Lake had been her idea.
"I wholly supported it, though," Schuler said.
Gessford, 21, said this was her fourth overnight ski trip, and the planned two-night trip would match her longest backcountry stay.
Schuler, 24, met Gessford in high school in the Sonoma, Calif., area. He attends Portland Community College after spending 4 years in the Army.
An experienced backcountry skier, Schuler's longest trip had been four nights and five days.
After filling out their backcountry trip permit at park headquarters Thursday morning, Schuler and Gessford headed north and west, circling the lake clockwise. The weather forecast, available at the visitor's center, indicated partly sunny weather with snow beginning Saturday. The avalanche forecast listed moderate danger.
"It was going great until Sunday," Schuler said. "The cliffs on the Watchman, the views of the lake … awesome stuff."
"And the stars at night," Gessford said, nodding. "It began to snow Saturday, but conditions were still really good."
Sunday morning the couple awoke to more than 6 inches of new snow on the ground, with more falling. As they broke camp, the winds increased and so did the snow. "We got going about 11:30, and headed up a ridge," Schuler said. "It was straight up, in deep snow," Gessford said. "That's when the slide got us."
In the shrieking storm, neither Schuler nor Gessford saw the slide coming, and were buried up to their waists. Digging out, they made it to the top of Dutton Ridge, just south of Kerr Notch.
Unable to continue in the worsening conditions, Schuler said, they sought shelter under a tree. Climbing in, with the storm fly of their tent wrapped around them, they settled in.
"We didn't sleep much," Schuler said. "We talked a lot. We knew then we might be there for a couple of days."
* * *
Search commander Pete Reinhardt, a ranger at Crater Lake for the last 10 years, is a powerfully built man with piercing brown eyes. Wednesday, his eyes were rimmed with red, a sign of five hours of sleep since daybreak Tuesday.
The search had begun badly. Heavy snows driven by high winds had created whiteout conditions. Travel was dangerous. After an alert park ranger saw a Jeep belonging to Schuler sitting in the parking lot Sunday, park rangers found Schuler's and Gessford's backcountry trip permit. It indicated they planned to return Saturday. A quick check of the area near park headquarters Sunday afternoon turned up nothing.
Monday morning, Reinhardt sent out teams on skis and snowshoes, and one team narrowly avoided tragedy. Three miles from park headquarters, an avalanche on Vidae Ridge above East Rim Road caught two searchers and two visitors, sweeping them off the road.
Two were able to stay above the snow. They located and dug out the other two within 30 minutes. All four were OK, and skied out with help from responding search teams. In addition to being a harsh wake-up call, the incident cost valuable time.
"I have never seen avalanche conditions that bad in my time here," Reinhardt said. "We spent most of Monday making sure our people were safe."
* * *
Sleeping fitfully, Schuler and Gessford found their shelter collapsing slowly around them from the weight of more than a foot of snow that fell Sunday.
"It was getting hard to breathe," Gessford said. "We got up and out before the sun came up."
Monday morning, the world beyond their tree had changed little, although the wind died down enough to allow them to set up their tent and climb inside.
"That's when I got scared," Schuler said. "Before that, I was too uncomfortable or too busy, but then I got into the tent and sat back and went, 'OK, I am really scared.'"
The couple said they read their books, and began to ration their food carefully.
"We slept a lot," Schuler said. "I mean, we didn't get much sleep the night before."
As they rested, an additional foot of snow fell Monday.
* * *
Christina Faith has worked three seasons at Crater Lake, and Monday found her at the desk at the visitors center. A couple who had insisted on skiing around the lake Sunday had taken Faith's advice to do a simple overnighter to gauge if they wanted to deal with the severe weather. Monday morning, the couple came in to thank her.
"They had just seen our people come in from the avalanche Monday," Faith said. "They were just saying 'thank you,' over and over again."
Rangers do not have the authority to keep people from using the park unless an official closure is in place, Faith said, and that rarely happens.
"We give them our best advice, and have them fill out the backcountry trip permits, but after that, it's up to them. It's their park."
Faith turns to answer a visitor's question.
"Where did those missing skiers disappear? I mean, where where they last seen?"
"Right here," Faith said, gesturing to where her questioner was standing.
Searchers spent Tuesday checking the West Rim as far as the Watchman, at 8,013 feet the tallest point on the rim, and to break trail into Pinnacles Road to get to the lake's southwestern side. Teams worked into the night. Another foot of snow fell Tuesday.
* * *
Emerging from their tent Wednesday morning, Gessford and Schuler saw a different world. More than 3 feet of snow had fallen at the park since Saturday, the day they were due back at park headquarters.
The storm had slowed them Saturday and stopped them cold Sunday. On Wednesday, although the weather was overcast and misty wet, Gessford and Schuler were ready to roll.
Building a fire, they quickly abandoned the original intent of using it for a signal and began to melt snow for enough water to last through a hard push to park headquarters, roughly five miles to the west.
"We were going to get out by tonight," Schuler said Wednesday. "All we wished for was for someone else to break trail."
* * *
Heeding the high avalanche danger, on Wednesday Reinhardt planned to use searchers in three Sno-Cat to search Crater Lake's northern and eastern sides. The search plan avoided rugged terrain immediately to the east of park headquarters, reaching instead areas that had not yet been covered. At 2 p.m. a discovery at Kerr Notch altered his plans — two sets of ski tracks were found on East Rim Road at its junction with Pinnacles Road, a little used access trail that approaches the lake's rim from the southwest.
Calmly, Reinhardt questioned the excited searcher about the tracks' freshness, and what direction the skiers might be taking.
"The snow left by the skis is soft, and everything around the track is covered with ice," the searcher reported. "There are no ski pole marks next to the tracks, so I think they are headed downhill."
Reinhardt knew that, if the report were accurate, Gessford and Schuler were skiing toward park headquarters, and out of the planned search zone.
Holding one Sno-Cat at Kerr Notch, Reinhardt told a second Sno-Cat to go up Pinnacle Road to Greyback Road, a cutoff that joined the East Rim Road less than a quarter-mile from Monday's avalanche area. With searchers probing from behind, Reinhardt had put a safety net in front of the missing skiers.
* * *
At 5 p.m. Wednesday, a meeting forged of good decisions and a good deal of luck took place on the East Rim Road near Vidae Falls. Ironically, Schuler and Gessford were picked up close to the site of the avalanche that caught the four skiers Monday morning. To be safe, Reinhardt directed the Sno-Cats to return the way they came, back down Greyback Road to Pinnacle Road and out to Highway 62.
There, at the Annie Springs Sno-Park, Paul Gessford, stood awaiting his daughter's return. A quick hug, a few words, and then he let park rangers do a medical check on the two before feeding them sandwiches and fluids.
Gessford, a noted rock climber who taught Outward Bound courses in England, could only marvel at his daughter and Schuler.
"They are amazing — I am so proud of them," he said. "There's a saying in climbing: if you think you are going to die, you will. It means you lose your concentration, your skill, if you let fear take over. If they had made one bad decision, just one…
"I will tell you one thing," Gessford said, smiling at Kate as she and Schuler were lined up for photographs. "This experience has given me a whole new definition for the word, 'unthinkable.'"