Print Friendly
Look at the local top 10 attractions first
Herald and News
Klamath Falls, OR
May 12, 2003
By LEE JUILLERAT
Everyone has a top 10 list.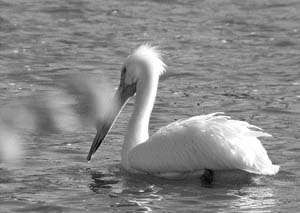 A white pelican, the symbol of Klamath Falls, takes a swim in a local lake.
There's the top 10 restaurants, top 10 all-time favorite movies, top 10 songs, top 10 book bestsellers and, of course, David Letterman's reverse top 10.
So, what about Klamath Basin top 10 recreation destinations? It is a list that changes, partly based on the season.
While Klamath Basin residents often take Crater Lake National Park for granted, it's easily the prime attraction for people traveling through the region during the summer.
But Crater Lake's moody spring weather makes it less alluring in May and early June, when snow squalls are common. Likewise, Crater Lake Lodge doesn't open until late May and, more significantly, it's not until late June that trails normally clear, lake tour boats operate, Rim Drive is fully open and ranger-guided hikes are offered. So let's head this list from bottom up.
10. Crater Lake National Park. Wait a month or two, and Crater Lake becomes the easy No. 1 pick. On sunny days, the view of the lake from Rim Village is routinely dazzling. As Rim Drive gradually is cleared of snow and open for travel, viewpoints provide stunning vistas of Wizard Island, Llao Rock and, best of all, the often moody lake itself.
9. Collier Memorial State Park. Located 30 miles north of Klamath Falls off Highway 97, Collier is a summertime stopover for campers. But during the spring it's popular with locals during fishing season. Spring is also a great time to meander around the outdoor logging museum and the Pioneer Village with families before the summer invasion of mosquitoes.
8. OC&E Woods Line State Trail. Bicyclists, runners, walkers and skaters commonly travel the 3.3 paved miles between Washburn and Highway 39, and more are expected to "discover" the newly paved 3.8 mile stretch from Highway 39 to Olene, which passes through farms and ranches.
For mountain bikers and equestrians, however, the real fascination lies beyond Olene. Between Olene and Switchback Hill, the most interesting section is Swede's Cut, named for Swedish workers who used drills and powder to create a gentle railway grade. The Switchback Hill, where the annual National Trails Day will be held Sunday, June 1, has an unusual double switchback and access to the Devil's Garden. The trail continues about 67 miles to Bly. The Woods Line begins at the Sycan Siding trailhead near Beatty before weaving 33 miles to the Sycan Marsh via the Merrill Creek trestle.
7. Moore Park. It's the Klamath Falls version of New York City's Central Park. Most people know about the park's soccer fields and children's play areas, but Moore Park also has a charming nature trail and a little used, partially bark-chipped trail on the west side of the highway.
It's a great spot for a picnic, short hike or just simply cross country exploring.
Christmas Valley Back Country Byway. Several scenic byways bisect areas of Klamath, Lake and Modoc counties. One of the more interesting is the Christmas Valley byway, which begin on Highway 31 about 18 miles north of Silver Lake and ends 10 miles east of Silver Lake's Highway 31. Because the route includes paved and gravel roads, and sections that require high-clearance vehicles, it should be driven only when dry.
It's worth the effort, with stops possible at the Fort Rock Homestead Village Museum, Fort Rock State Park, Fort Rock Cave (where archeologists found sagebrush sandals that proved the area was inhabited 9,000 years ago), Crack in the Ground, Lost Forest, Sand Dunes Christmas Valley and Table Rock.
Klamath County Sports Complex. Located just off Foothills Boulevard, the still developing complex has come alive in the past year with a skateboard park, baseball, softball and soccer fields and an indoor multi-use recreational building. Along with spectator sports, the complex has a running/walking trail around most of its perimeter.4. Hart Mountain National Antelope Refuge. Located in Lake County, the refuge headquarters is 25 miles east of tiny Plush and 65 miles northeast of Lakeview, so go prepared.
Spend a night or two at the Hot Springs Campground, and plan to soak in the small hot springs. As the name indicates, Petroglyph Lake has fascinating petroglyphs, and is a place where pronghorn antelope and, less frequently, bighorn sheep can be seen. There are no marked trails, but cross country hikers can find scenic fascinations along the rim near the campground or mountain bikers can pedal a loop route that takes in the Barnhardi Cabin, Big Sky Motel and park headquarters.
3. Link River Nature Trail. Not many other cities have a nature trail running through town. About 1-1/2 miles long, it's accessed by trailheads near the Fremont Bridge at Upper Klamath Lake and near the Favell Museum just up the road from Lake Ewauna.
The trail is used by walkers, runners and, seasonally, berry pickers and fishermen. A short walk leads to Klamath Falls little seen falls, just below the Link River Dam. The river is generally at its highest in the spring, so those alleged falls, which appear more like a water slide, can at least be seen.
2. Lava Beds National Monument. All seasons are excellent at Lava Beds. On sunny days, sites made famous by the Modoc Indian War are always fascinating. While the hike around Captain Jack's Stronghold is a definite must, shorter visits to places like Canby's Cross and Gillem's Camp are worthwhile. If you have time, excellent short hikes include the Thomas Wright Battlefield and.
On hot days, or during spring days when it's wet or chilly outside, borrow flashlights at the visitor center and spend several hours, or the day, delving around the park's more accessible lava tube caves, especially those along the Cave Loop Road.
1. Klamath Basin National Wildlife Refuges, especially Lower Klamath and Tule Lake National Wildlife Refuges. This is a season when migrating waterfowl often blanket the skies at the two refuges just south of the Oregon-California state line.
To make best use of a visit, check out the refuge visitor center on Hill Road west of Tule Lake. The displays are informative, but be sure to ask staff about what birds are in the area and where they might best be seen. Pack binoculars, clothing that can handle mud and rain and, of course, birding guides.