Print Friendly
Researchers delve into lake's clarity
Herald and News
Klamath Falls, Oregon
September 15, 2003
By LEE JUILLERAT
CRATER LAKE – Rolling swells created white-capped waves that plunged and bucked the boat like an out-of-control teeter-totter.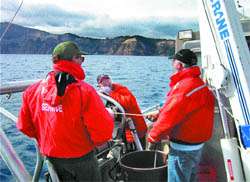 Mark Buktenika, left, Chris Moser, center, and Robert Collier retrieve one of three sediment traps that have been kept in Crater Lake for the past 20 years. They examine the traps twice a year to measure the lake's clarity.
Scott Girdner, a Crater Lake National Park biologist and boat pilot, held the wheel steady. He tried to minimize the bounce as the bow of the R/V Neuston alternately dipped into holes between waves and then tilted abruptly skyward as the swell passed underneath.
At the stern of the Neuston, five passengers scrambled: Oregon State University oceanographers Dr. Robert Collier and Chris Moser, park biologist Mark Buktenica and seasonal rangers Sonya Newell and Michelle Danner.
Some latched thermometers to preselected points along a mooring line.
Others fed the line and miniaturized computers into the turbulent waters or prepared a trio of 5 1/2-foot tall, ice cream cone-shaped fiberglass tubes containing thermometers that will be retrieved next July.
It looked like a Pillsbury Doughboy convention. Everyone wore layers of warm weather clothing topped with bright-colored raingear, life preservers and, over their heads, wool or ball caps.
Like squat, frantic squirrels preparing for winter, each purposely scurried about accomplishing tasks under a spray of cold rain and bursts of frothing lake waters.
The Neuston is the park's research vehicle, a 30-foot long hull with a 3-foot extension. Buktenica explained that "Neuston" refers to organisms such as water striders that live on the surface of the water.
"We were hoping the Neuston would stay on the surface," Buktenica said.
The Neuston is no cruise ship. It's all about practicality. Its compact cabin is equipped with a global positioning system, depth sounder and computers that display detailed lake-bottom maps while its deck is filled with spare parts, hydraulic wrenches and a crane.
It was ferried by helicopter to the lake in 1995 and is used throughout the summer and, occasionally, during the winters as researchers study the lake's clarity.
Crater Lake has long been touted as the nation's, and possibly the world's, clearest lake. Its fabled clarity was questioned in the early 1980s by researcher Doug Larson. His concerns reverberated in Washington, D.C., where members of Congress, led by Oregon Sen. Mark Hatfield, allocated money for a 10-year lake water quality study.
That study determined the clarity sometimes varies, usually because of rockslides on the lake's steep caldera wall or occasionally because of changes triggered by weather changes.
Overall, however, the nation's deepest lake – 1,932 feet at its greatest – remains among the world's purest. Researchers who stay at Wizard Island routinely fill large buckets with lake water for drinking.
The 10-year study ended in 1993, but the research continues. Crater Lake National Park's annual budget includes $280,000 for aquatic studies, not counting an estimated $120,000 in work provided by students doing post-graduate studies.
Collier, an assistant professor of oceanography at OSU, and Moser, a senior research assistant, have been collecting water data at Crater Lake since 1983, usually making several trips each summer. Buktenica started in 1985, but he spends even more days on the water as part of his job.
Research efforts were comparatively primitive during the early 1980s. The first boats were pontoon vessels less capable of withstanding Crater Lake's erratic, often ocean-like conditions.
Work days were longer because there was no place to stay at the lake until 1985, when a Park Service boathouse was built on Wizard Island. The cone-shaped crater, which rises 764 feet above the lake's surface, also has two hiking trails, composting restrooms end boathouses for concession tour boats.
Twenty years of research have generated significant information.
"We have confirmed the obvious – it is extremely pure," Collier said. "Previously, it was more of an aesthetic description. Now we have some basis to document it for the future. The lake is so clear that it's extremely responsive to change."
"When you come out here on a clear, calm day the clarity still astonishes me," Buktenica said. "A lot of people have no idea what we do. They say, 'I'm glad somebody is doing that.' Everyone thinks it's a great job when it's sunny and warm."
It was anything but sunny and warm last week when Buktenica and the others tackled their seasonal studies Monday through Thursday.
Temperatures had been balmy most of the summer, but on Tuesday they plunged suddenly as a storm engulfed the park, peppering the lake with chilly, blustery winds and more than 1.5 inches of soaking rains.
Despite the storm, crews retrieved the sediment traps from their nearly 2,000-foot-long mooring line Monday afternoon.
That evening, on the Wizard Island boat dock, Collier and Moser collected minuscule samplings of bacteria, debris and even bird fecal matter from the three traps, which for 20 years have been placed along the mooring line at depths of 200, 400 and 575 meters, or about 656, 1,312 and 1,886 feet.
The collected sediment will be centrifuged, freeze-dried, weighed and studied, especially for its composition of nitrogen and carbon.
Tuesday morning, park seasonal Nina Ferrante helped to clean the traps, lines and floats while others prepared miniature data recorders that periodically record water temperatures at various lake depths and transmit that data to researchers.
Films and books often depict scientific investigations as exciting and dramatic, but the work at Wizard Island and on the Neuston was labor intensive, repetitious, mechanical and, given weather conditions, dangerous.
At the lake's eastern side, normally within easy view of the Wineglass and Grotto Cove, the mooring line was gradually fed out as the miniature data recorders, floats and traps were methodically attached.
Clouds spilled down the caldera's west wall, obscuring the Rim Village area and forming a puffball over Wizard Island, but there was little time for sightseeing. Hours passed quickly as the tasks were step-by-step completed.
Shortly before the last trap was fixed to the mooring line, the sun appeared. Collier scrambled inside the cabin, nabbed a Sharpie, returned to the outer deck and twisted the trap. Like the lake, tradition runs deep. Collier scrawled an image of a rocking boat and, between swells, scribbled "Wavy and Wet," then his name. Others followed, usually adding nicknames.
At a preselected location, the final trap, one last miniature data recorder and the anchor were pushed overboard as Girdner fired the engine. Slowly the anchor sank to the lake's bottom, towing the line of traps, floats and data recorders until only a marker buoy floated to the lake's surface.
Next July, using the Neuston's hydraulic wrenches and crane, the retrieval and dispersal process will again be repeated. It will yield information about the changes in the lake, which sees variations in climate, water temperatures at various depths and distribution of microscopic plants and animals.
"It really does change from year to year," Buktenica said.
Collier seems glad about the challenge.
"We've taken large steps toward understanding those links," he said. "It's not easy as understanding the workings of a watch. This lake is very complex. In honesty, we're not close to a full understanding."