Print Friendly
Crater Lake boats refloated: builder modifies engines; allows tours to resume
Herald and News
Klamath Falls, Oregon
August 25, 2003
By LEE JUILLERAT
CRATER LAKE – The boats are back.
The popular scenic boat tours on Crater Lake were stymied this summer, but they were back in business Sunday as new, retooled boats began operating.
Earlier this year, officials of Xanterra, the concessionaire at Crater Lake National Park, replaced historic but aging wooden boats with look-alike but safer fiberglass versions.
The new vessels were flown onto the lake by helicopters, but not until July 22.
Operational problems delayed the first day of scheduled boat tours until Aug. 1. On the first day, one boat had engine problems that temporarily stranded visitors on Wizard Island.
Xanterra and the company that built the boats spent three weeks modifying equipment for high-elevation operations and doing on-water testing.
"I've been looking forward to doing these boat tours all summer," said Shawn DeRyder, a seasonal park ranger who described the caldera's geology during Sunday's first tour. "Crater Lake is a great place to be for the summer."
Craig Peterson oversees the boat tour operations for Xanterra, which has a 15-year contract as concessionaire. He said he was relieved and pleased.
"It's been expensive, but this is not a short-term operation," he said.
Not counting lost revenues, Peterson said, the cost of building, transporting and getting the new boats operable is more than $750,000. Of that, $600,000 was for the boats themselves.
After mechanical failures on one of the new boats, the Umpqua, Xanterra officials decided to reconfigure motor mounts on all three vessels. The boats and its pilots were also certified by the U.S. Coast Guard.
The three new boats are named the Klamath, Rogue and Umpqua, for three Southern Oregon rivers. They retain the historic appearance of the four wooden boats, with minor modifications.
Entering and exiting the new boats is easier because of a side entry system, and speakers greatly improve the sound system, making it easier for passengers to hear talks by DeRyder and other park rangers who accompany all tours.
Rangers and boat crew members said the new boats are slower than their predecessors and, despite hopes to the contrary, have louder engines.
Those concerns seemed insignificant to one of the passengers on Sunday's first boat, who remarked, "The lake makes up for any deficiencies."
How to take the boats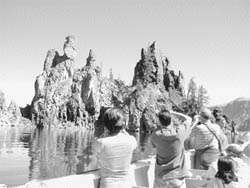 The Phantom Ship drew the attention of people touring Crater Lake Sunday.
Seven boat tours are being offered daily beginning at 10 a.m. from Cleetwood Cove. It's a one-mile hike down from the Cleetwood Cove trailhead and parking area, and you have to hike back.
Tickets are available at the trailhead kiosk on a first-come, first-saved basis beginning at 8:30 a.m. daily. The cost is $19.25 for adults and $11.25 for youth age 12 and younger. Reservations are not available.
Passengers should dress in layers, take sunscreen, hats, dark glasses and drinking water. The trips take about two hours.
Passengers on early trips can get off at Wizard Island to hike, swim and fish – the Park Service encourages fishing because the fish are non-native. You can't use live bait. After touring Wizard Island, you can return by a later boat.