Print Friendly
Crater Lake to get funds
Herald and News
Klamath Falls, Oregon
November 22, 2004
By LEE JUILLERAT
After decades of persistent lobbying and postponed promises, plans to relocate the large parking lot at the rim of Crater Lake are ready to move ahead.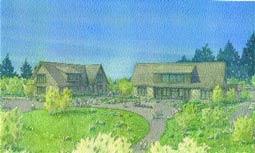 An artist's rendering shows how the pedestrian parkway at Rim Village will look. Funding to remove a parking lot at the site was approved by Congress over the weekend.

Chuck Lundy, Crater Lake National Park superintendent, said he received word Saturday that $8.7 million to relocate the parking lot and remodel the cafeteria-gift shop is included in the fiscal year 2005 omnibus spending bill that passed the Senate and House of Representatives. President Bush is expected to sign the bill this week.
The measure includes funding to replace the large parking lot at Rim Village with a pedestrian area in front of the cafeteria-gift shop.
Lundy said park officials will immediately move ahead to put the project out for bid so that work can begin next summer.
The main Rim Village parking area will be moved from its present area to behind the buildings. The cafeteria-gift shop at Rim Village will be reduced to its historic size.
"That was great news," Lundy said.
He said lobbying, especially by Rep. Greg Walden, whose 2nd Congressional district includes Klamath County, put money for the project back in the budget. Funds had been included in the president's budget and were approved by the Senate, but the money was removed by the House.
"Congressman Walden went to work, along with our two senators," Lundy said. "I was always hopeful and optimistic. It's one of those projects we have talked about for a long time."
Lundy said park officials and the park's concessionaire, Xanterra, are developing plans to provide alternative services. The Rim Village project, which will take two summers, is just one of several major projects.
"It'll be one of those 'excuse our dust' kind of summers," he said.
Construction of the Crater Lake Science and Learning Center, which began last summer, will conclude next summer. And major construction is planned on Highway 62 next summer between Prospect and the park's south entrance.
Ground has been cleared for a 10,000-square-foot Mazama Village restaurant-gift shop, near the park's south entrance. Construction will begin next spring, as soon as snow clears.
Lundy said park and concession officials had hoped the restaurant's construction could have started this year so that it could open next summer, "but it just didn't work out." Instead, temporary food services will be provided in the Rim Village area next summer.
Lundy said the Rim Village construction also means probable parking congestion. Access will be provided to the Crater Lake Lodge, but oversized vehicles may have limited Rim Village access.
"We're going to lose a lot of parking spaces," Lundy said. "It will be disruptive, certainly for the next year. But in the long-term, the changes at Rim Village will greatly benefit the park and our visitors."