Print Friendly
Crater Lake holds status as area's primary tourist draw
Herald and News
Klamath Falls, Oregon
September 13, 2004
By LEE JUILLERAT
Crater Lake remains the main reason people visit the Klamath Basin, but increasing numbers of tourists from around the nation, and even the world, are checking out real estate, taking rides on the Klamath Belle and seeing the sights.
"Crater Lake is our No. 1 attraction," said Dawnn Brown, executive director of the Great Basin Visitors Association of Crater Lake National Park.
"Crater Lake has always been a major interest to our visitors," echoes Janet Barnes, a travel adviser at the Klamath State Welcome Center off Highway 97 in Midland.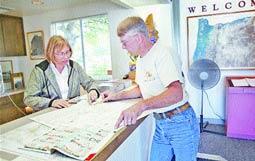 Carol Yarbrough, a travel adviser with the Klamath State Welcome Center at Midland, assists Bob Miller of Eldorado, Calif., with his travel planning through Klamath County Friday. The welcome center, operated by the Oregon Travel Information Council, is open seven days a week from April through October.
"Most everyone refers to Crater Lake," agrees Phil Fulbright, general manager of the Klamath Falls Olympic Inn motel.
Crater Lake may be the region's prime attraction, but park spokesmen say visitation has been near levels reached last year. As of Sept. 1, based on figures from entrance stations, the park had counted about 345,000 visits, about a 4.7 percent decrease from the 362,000 in the same period in 2003. Approximately 100,000 visits were made in both July and August.
Michael Justin, the park's concession management specialist, said those figures are slightly misleading because this year the entire Labor Day Weekend fell in September.
The park normally has about 500,000 visitors in an average year, with the vast majority in the summer.
"I think the price of gasoline has had an effect. Gas is still very expensive," Justin said, noting many visitors are coming from around Oregon.
"We do a fair amount of visits from repeat Oregonians, maybe not every year, but every few years. And there are so many people coming for the first time."
Although the park is in Klamath County, Justin said statistics indicate about two-thirds of the visitors drive to the park from Interstate 5 locations, including Ashland, Medford, Grants Pass, Roseburg and Eugene.
While Crater Lake remains the main draw, Barnes, Brown and others report growing interest in other activities, including special events, brunches, ice cream socials, dock dining, and dinner and breakfast cruises on the Klamath Belle.
"Almost every single conversation we suggest the Klamath Belle," Brown said.
"We've done really well," said Dave Elsner, who manages the Belle, a replica sidewheel paddle wheel boat that cruises Upper Klamath Lake. The Belle, now nearing the end of its fifth year, operates between Easter and late October. "This has been our busiest year so far. I think it's just more exposure. A lot of it is word of mouth."
Many of those riding the Belle have been people from outside the area looking at buying property, often for retirement or vacation homes.
"A lot of people have heard about Southern Oregon and want to check out the Klamath Falls area," reports Elsner.
"I've had a lot of that, too," said Fulbright.
He said people have been looking at, and buying, property at a variety of locations, from the Running Y Ranch Resort to the south suburbs. Encouraging, too, have been figures showing that about two-thirds of motel guests are making multiple day stays.
"It has been a very strong summer for us. We've exceeded any July or August in prior history," Fulbright said.
Barnes says the number of visitors at the Midland visitor center is down slightly from last summer, possibly because of higher gas prices, but notes the numbers have rebounded already this month.
Unusually, visitors have come from all over.
"We've had a wonderful summer with many visitors from all countries, including Austria, Germany and Sweden, to name a few," Barnes said, noting the numbers of Californians, about 5,000, remained high. "That is a big bulk of our visitors."
Along with Crater Lake and the Klamath Belle, she said interest is growing for museums, the OC&E State Park for hiking, bicycling and mountain biking, and the Link River and Lake Ewauna trails.
"People coming here want to do more than shop," Barnes said. "We get asked a lot of questions about why there aren't more boats on Upper Klamath Lake."
The visitor center opened in April and will remain open until Oct. 31.
"We're encouraged about what's happening," Brown said of her office, which took over tourism duties this spring.
Based on past statistics, the number of office visits, e-mails and telephone inquiries increased from about 1,480 in July 2003 to nearly 1,900 this July and from about 1,300 in August 2003 to about 2,150 this August. This year's figures, she notes, do not include visits by Klamath Basin people.
"They're coming in to find out what there is to do," Brown said. "We really talk with them a lot to see how long they're going to be here and what they're interested in."
And, as usual, everyone's interested in Crater Lake.
Visiting Crater Lake
Steel Visitor Center: Open all year. Open from 9 a.m. to 5 p.m. May through October. Open from 10 a.m. to 4 p.m. November through April. The center can be reached by phone at (541) 594-3100.
Rim Village Center: Open June through September, 9:30 a.m. to 5:00 p.m. The center can be reached by phone at (541) 594-3090.
Entrance fees: $10 for seven days per vehicle.