Print Friendly
Crater ski patrol launches effort for new ski signs
Herald and News
Klamath Falls, Oregon
February 20, 2004
By LEE JUILLERAT
Cross country skiers finding their way around the backcountry at Crater Lake National Park are getting some help.
Members of the park's ski patrol are installing new metal signs. Some are replacements for worn-out wooden signs – "They're starting to turn into firewood," said Niel Barrett, a long-time ski patrol member – and some are totally new directional signs.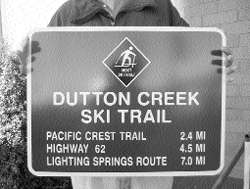 This sign, being held by a member of Crater Lake National Park's ski patrol, is an example of the signs the patrol is installing. The patrol is looking for financial help to do so.

A total of 33 signs are being installed by ski patrol members, who for decades have spent winter weekends and holidays handling multiple tasks in the park's snowy backcountry. Although patrol members – who wear distinctive red jackets – are most visible when skiing on popular trails along Rim Drive, they also handle many work projects and are trained in avalanche control, rescues and emergency assistance.
Earlier this month, they helped rescue a woman who was injured while skiing the Dutton trail near Rim Village. It took team members four hours to help evacuate her. She was not seriously injured, but was unable to ski.
Barrett said the patrol's 51 members decided to take on the task of designing, buying and installing directional and informational signs.
The cost for the 33 signs is $2,400, and volunteer ski patrol members have raised more than $1,000. Now they're hoping to rally support – and cash – from individuals and corporate sponsors.
"We went to the ski patrol and now we're also going out to the community," said Barrett. "We're working for the park, but we're a separate entity."
The new metal signs, which are expected to last longer than wooden signs, provide directional information at trailheads and junctions. New are signs reminding snowshoers, walkers and snowboarders not to use cross country ski tracks. Also new are signs marking an alternate route around an avalanche area on East Rim Drive near the Crater Butte junction.
Patrol members also hope to raise enough money to buy replacement signs, in case signs are damaged.
Most signs will be installed seasonally, but signs in more distant, difficult-to-access areas are being placed on year-round posts and poles. The signs are being installed as they are manufactured.
People and organizations willing to donate or wanting more information can contact Klamath Falls ski patrol member J.T. Hummel at 273-9286 or by e-mail at jhummel@ncelec.com