Print Friendly
Teachers wanted for outdoor science school workshop
Herald and News
Klamath Falls, Oregon
July 26, 2005
By DYLAN DARLING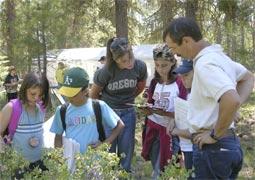 Girl Scouts examine plants at the Klamath Outdoor Science School during a camp this summer. From left to right, Kristen Goff, Ana Salinas, counselor Leah Buck, Khrystian Houhn, Brook McCollough and Steve Jones of the Oregon Department of Forestry.
How to get teachers out of the classroom? Here's an idea.
The Klamath Outdoor Science School will hold a workshop for educators on August 23 to show them what the new school has to offer. The school now has a site and temporary tents to stay in, but it needs teachers interested in taking their classes there come spring.
"They will learn how to take their class outside and teach them about natural resources," said Anne Maloney, member of the school's board.
Nestled in the Sun Pass State Forest between Fort Klamath and Chiloquin, the school has access to nearby woods, marshes and Crater Lake National Park.
"We are using the forest as a classroom, basically," said Maloney, who is also an Oregon Department of Forestry forester.
During the August 23 workshop, teachers will learn what they have available to them in the outdoor classroom. They will also get activity guides, books and posters about the outdoors to spruce up their indoor classrooms.
This summer has been the school's first season of use, with 4-H students and Girl Scouts coming in for three and four-day stints. In the spring, school officials plan to have classes from around South Central and Southwestern Oregon and Northern California spend a day to a work week at the school.
To register call the Oregon Forestry Education Project at (800) 554-6987. For more information, call Maloney at 883-5681.
On the Net: www.cof.orst.edu/cof/extended/ofep/