Print Friendly
New parkway signs go up
Herald and News
Klamath Falls, Oregon
October 21, 2005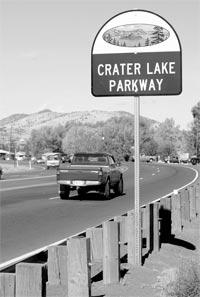 H&N photo by Gary Thain
The new Crater Lake Parkway signs are in place along the parkway like this one near the Towne Pump.
Don't call it the Alameda Bypass, Kit Carson Way or the East Side Bypass.
Sections of Highway 39 between South Sixth Street and Highway 97 North have been known by many names over the years, but it's now officially the Crater Lake Parkway.
Crews from the Oregon Department of Transportation began installing the new Crater Lake Parkway signs Wednesday and expect to work another three weeks before completing the job.
ODOT officials said motorists should expect minor delays at installation locations. Installing the signs is the final step in a community-driven effort to have the section of Highway 39 through Klamath Falls renamed to celebrate Crater Lake National Park.
The signs are dark blue, instead of the standard green, and feature the image of Crater Lake.