Print Friendly
Education Afoot: a local teacher takes the lesson out of doors in celebrating the woods of Jacksonville
Mail Tribune
Medford, Oregon
February 7, 2005
By SANNE SPECHT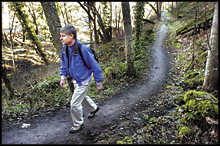 Larry Smith has spent the past 16 years helping create the Jacksonville Woodlands, eight miles of interpretive and recreational trails on 320 acres in Jacksonville.
Mail Tribune / Jim Craven
A s Larry Smith discusses his twin passions — teaching kids and preserving Jacksonville's woodlands — his eyes reflect both soft sentiment and steely determination.
"This is a lifelong commitment," says Smith.
The youthful 64-year-old grandfather has spent more than 30 years teaching at local elementary schools and the past 16 years building the Jacksonville Woodlands Association — a non-profit organization founded to purchase and preserve parkland in the hills surrounding his hometown.
With the help of Smith's students — and federal, state, county, city and community efforts — the organization has purchased 21 parcels which make up the 320-acre natural park.
Grants, mostly written by Smith, have helped fund the $3.5 million ongoing project that currently supports eight miles of interpretive and recreational trails.
"We're about to make that nine miles," says Smith with a grin.
Now Smith is about to be presented with a national award honoring his vision and leadership, says Marjorie Edens, Jacksonville resident and former Southern Oregon Historical Society field services coordinator.
At the request of state historian Richard Engeman, Edens wrote an Award of Merit for the American Association of State and Local History in honor of Smith's contribution to Jacksonville — a town that is itself a historic landmark.
"(The JWA) preserves our view," she said. "There weren't many people who understood the vi44wscape is as important as the built landscape.
"Larry built his teaching career to incorporate these kinds of contributions back to the community. And I'm ever so grateful."
Smith says JWA was born when a for-sale sign appeared in the Beekman Woods above his Laurelwood Drive neighborhood in 1988. Smith says he and another neighbor, Joe Raymond, discovered the land had been left to the University of Oregon.The tract was zoned for a 22-home development.
Determined to protect the viewshed and natural playground for the neighborhood's children, they formed the JWA in 1989. Although they raised $25,000 at their first public meeting, it took six years for the association to raise the property's $126,000 asking price.
"The plan," says Smith, "was to buy the woods and go out of business."
But by then, Southern Oregon University had also decided to sell some property in the woodlands area.
Smith couldn't resist adding to the dream when SOU made him a great offer. The 80 acres of property went to the JWA for the bargain price of $140,000.
"They really worked with us," Smith says.
Smith says he is proud of the numerous regional and four national awards the conservation project has garnered. He is equally proud of his community's contributions to the JWA's successes — particularly those of his students.
Smith started teaching in 1964 and "semi-retired" in 1999. He still teaches at Medford and Jacksonville schools at least two days a week, he says.
"I missed it so much I went back," says Smith.
Smith beams when he discusses how students helped build the JWA trails system. His students often joined him on the trail. In addition to getting a good physical workout, the students learned lessons in ecology, history, and civics.
One of Smith's former students, Brian Mulhollen, brought the woodlands national attention when he received the Jefferson Award for public service in 1993.
The 11-year-old had persuaded the city to sell a 10-acre parcel for the greatly discounted price of $1,060.
"He asked me, 'Mr. Smith, how do we get it?'" says Smith. "I told him, 'Brian, we have to ask them for it.' And he did."
Mulhollen, now 23 and father of two, says Smith's influence helped him find his path in life. He works with the Forest Service and was recently offered a job as a firefighter in Merlin.
"I'd walk to school with him every other day on those trails," says Mulhollen. "I had a lot of ambition and a lot of drive. Larry helped channel it into something I can be proud of. That means everything to me."
Mayor Jim Lewis says Smith's work on behalf of Jacksonville doesn't begin and end with the woodlands. Smith serves on at least eight committees and organizations, including the Crater Lake Institute, the city's budget and parks committees and Friends of the Jacksonville Library, he says.
"He continues to instill his values and good work ethic," Lewis says. "This town owes him an awful lot."
For more on the JWA, contact www.jvwoodlands.org or info@jvwoodlands.org.