Print Friendly
Pacific Crest Trail journey is a repeat performance
Union-Tribune
San Diego, California
November 28, 2006
By ED ZIERALSKI
So many things could have stopped Scott Williamson on his record-setting 5,300-mile hike from the Mexican border to Canada and back on the Pacific Crest Trail, what hikers call yo-yoing the PCT.
There was a severely infected toe from an ingrown nail.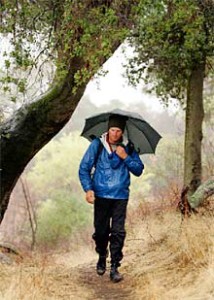 K.C. ALFRED / Union-Tribune Scott Williamson hiked yesterday in the Lake Morena area as he neared completion of his record-setting trek on the Pacific Crest Trail.
But a surgeon he met on the trail, a kind woman with some pain pills and some surgical tools, performed the operation that kept him hiking.
There were swollen streams and creeks in northern Yosemite National Park, filled with runoff from the record snowfall in the Sierra. At one point it took him three hours to cross Bear Creek.
There was the black bear that nosed into his shelter one night as Williamson camped near Lake Tahoe, but a loud yell sent the bear scampering.
He had to contend with four different forest fires, at times feeling the intense heat of the trees as they burned on both sides of the narrow PCT trail.
And he was extremely ill in the Sierra for five days, losing roughly 25 pounds off his lean frame from what might have been giardiasis, an intestinal infection, because he didn't purify his drinking water.
But Williamson kept going, leaving the famed PCT at 26 predetermined supply areas, always returning to the same spot, marked to keep his trek line intact. And today, about 1 p.m., the 34-year-old self-employed tree maintenance specialist from Truckee who has become a cult figure in the hiking world, will take the last of an estimated 10 million steps over 191 days, two full weeks less than it took him to yo-yo the PCT in 2004.
It all ends at the Pacific Crest Trail terminus at the Mexican border, 20 miles south of Lake Morena, where Williamson met up yesterday afternoon with his fiancee, Michelle Turley, and ate some giant slices of pizza.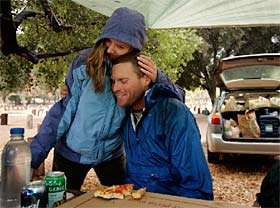 K.C. ALFRED / Union-Tribune Record-setting hiker Scott Williamson stopped yesterday near Lake Morena for pizza with Michelle Turley, his fiancee and part of his Pacific Crest Trail support crew.
"I guess after tomorrow I don't have anywhere else to walk," he said yesterday, laughing.
Williamson was the first to yo-yo the PCT in a calendar year in 2004, and he's the first to repeat it.
"Scott now has done something no one ever did and now he has done something that no one likely ever will do," said Reinhold Metzger, a San Diego-based hiker who holds the speed record for an unsupported hike on the John Muir Trail.