Print Friendly
William Arthur 'Bill' Bloom
Herald and News
Klamath Falls, Oregon
January 13, 2006
William Arthur "Bill" Bloom, 57, Sprague River, died Jan. 8, 2006, after a yearlong battle against pancreatic cancer.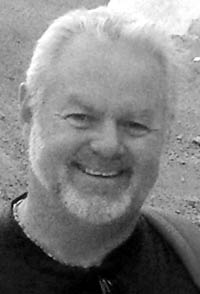 Mr. Bloom was born May 24, 1948, in Chicago to William Grant and Virginia May (Wright) Bloom.Funeral services will be private. Cremation will be by Klamath Cremation Service. O'Hair & Riggs Funeral Chapel is in charge of arrangements.
He was known to his friends as "Wild Bill."
He graduated from high school in Tujunga, Calif., and entered the Marine Corps in July 1966. After completing basic training, he served for 13 months in Vietnam.
When he was discharged in November 1969, he had been awarded numerous medals, badges, commendations, citations and campaign ribbons.
Mr. Bloom then settled in Southern California, where he worked as a photographer for Hollywood studios.
In the early 1990s, he moved to Klamath County and worked as an advertising executive for the NBC television network.
He met his future wife, Carole Lee Purpuro, on the Internet and, after an enduring close relationship, they were married on Feb. 28, 2005, at their home in Sprague River.
Photography was his passion and he was also an avid outdoorsman, who enjoyed hiking, fishing on the Sprague and Williamson rivers, and skiing at Crater Lake National Park.
He was an active member of the Crater Lake Ski Patrol and, while on patrol in 2002, survived being buried in an avalanche for 38 minutes, which was the feature of a Weather Channel "storm story."
On several occasions, park authorities recognized him for his dedication and many years of service.
For a number of years, he published his photographs for calendars known as "Oregon Samples" that he sold on his Web site and at the Sprague River Station. He also supplied the restaurant with post cards, which are still available for sale. His photographs gained best of show honors twice at the Klamath County Fair.
In addition, Mr. Bloom enjoyed jogging and running for exercise. For several years, he participated in the annual Crater Lake Rim Run.
He enjoyed, too, traveling with his wife, particularly their trips to Canada.
Survivors include his wife, Carole Bloom of Sprague River; children Debbie Schneider, William Shawn Collier and Shelly Collier of Bakersfield, Calif.; grandchildren and their spouses Jason O'Brien of Los Angeles and Michelle and Jon Jackson, Jessica O'Brien, Stephanie and Tom Maynard, Aaron Collier, Melissa Fletcher and Jacob Fletcher of Bakersfield; great-grandchildren Sean Thomas O'Brien, Nathan Jackson, Dakota Maynard and Tracie Maynard; mother-in-law Pearl Purpuro of Sprague River; aunt and uncle Shirley and Dick Bloom of Indiana; and numerous cousins, friends and other relatives.
In lieu of flowers, memorial donations may be made to Cancer Treatment Research Foundation, 1336 Basswood Road, Schaumburg, IL 60173, or Klamath Hospice, 4745 S. Sixth St., Klamath Falls, OR 97603.