Print Friendly
John Carl Owings
Herald and News
Klamath Falls, Oregon
August 1, 2006
John Carl Owings, 75, died July 31, 2006, at his home in Klamath Falls.
Graveside services will be at 3:30 p.m. today in the Garden of Acacia at Eternal Hills Memorial Gardens with Pastor Billy Hamblin officiating. Visitation will be from 9 a.m. to noon today in Davenport's Chapel of the Good Shepherd.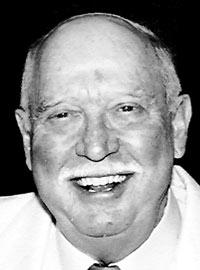 As captain of his football and basketball teams, he was offered a full scholarship to Oklahoma State University, but chose instead to marry Jo Ann Gibson on Feb. 5, 1949, while they were seniors in high school.
Mr. Owings was born Nov. 10, 1930, in Exeter, Mo., to Vance and Edith Owings.
They made their homes in Missouri, Kansas, Wyoming and Idaho before settling in Klamath Falls in 1957.
Early in their marriage, he worked at Crater Lake National Park for three summers and was a member of the search party that located two murdered General Motors executives at Crater Lake in 1952.
After permanently moving to Klamath Falls, Mr. Owings drove a log truck for Ned Putnam Logging before working as an installer at Kuhlman Insulation.
In 1961, he went to work for Francis D. Brown & Son/Circle DE Lumber, first as a lowboy driver, then as a heavy equipment operator, a mechanic and finally shop foreman. He retired from the company after being there for 34 years.
He was president of the Southern Oregon Racing Association in the 1960s and raced a Hudson Hornet stock car, No. 26, which was his high school football and basketball number.
He looked forward to the annual elk hunting trip and fishing trips with his friends until his health forced him to stop.
He was fascinated with gold mining and had a working gold mine claim for several years.
Mr. Owings was quite the story teller and, for years, his children and grandchildren thought Little Red Riding Hood rode a Harley-Davidson thanks to his tall tales.
He enjoyed gardening, "thumping" on his guitar, and watching car races and boxing on television.
He was a Civil War buff and, for several years, was a member of Hoo-Hoo Club.
Survivors include his wife of 57 years; daughters and sons-in-law Carla and Rick Chavez and Leigh and Floyd Frisk; son and daughter-in-law Travis and Carrie Owings; grandsons IC1 Cody Owings, U.S. Navy, Great Lakes, Ill., Jessy Frisk and his wife Darcy Knight Frisk; granddaughters Becky McCadden and her husband Matt, Michelle Crumrine and Melissa Owings; great-granddaughters Krysta, Kaylee and Hannah Childers; great-grandsons Luke Cramer, Kaleb Crumrine and Andrew Owings; nieces Peggy Maupin, Jennifer Ramsay and family, Kayra Owings of Kansas; numerous other nieces and nephews; sister Annabelle McDaniel of Colorado and Clarabelle Elliott of Oklahoma; brother George Owings of Texas; and sister-in-law Juanita Owings of Kansas.
He was preceded in death by his brother Charles Owings; sister Emella Roller; and sister-in-law Peggy Ash.