Print Friendly
Crater Lake: preserved in all its glory
It took 17-year crusade to protect Crater Lake as national park
Mail Tribune
Medford, Oregon
By BILL KETTLER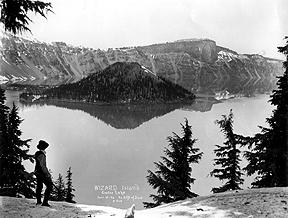 Photos from Southern Oregon Historical Society
An early visitor to Crater Lake National Park enjoyed a vista that included Wizard Island and Llao Rock (to the right of the island). Visitors to Oregon's only national park were surprised to find patches of snow lingering on the rim long after summer
A shimmering blue lake in the belly of an ancient volcano put Southern Oregon on the map when the 1900s were new.
Looking
Back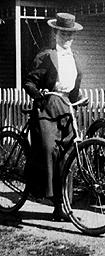 A weekly glance at milestones in
Jackson County
history over the
past 100 years.
May 1, 1900: Jackson County sets this day as deadline for all who own bicycles to pay the county bicycle tax to raise money for building bicycle paths.
May 5, 1901: Medford City Council passes an ordinance requiring that all places of assembly be illuminated with electric light.   At the time the city owned the local electric utility.
Dec. 2, 1902: The new steel truss bridge spanning Bear Creek at Main Street is opened to the public and described as "the best bridge in Jackson County."
May 20, 1903: President Theodore Roosevelt stops in Ashland on his whirlwind western tour.
Dec. 7, 1904: Gold Ray Dam, on the Rogue River near Gold Hill, begins generating electricity for the Rogue Valley.
Compiled by Bill Alley, Southern Oregon Historical Society.
For more information, or copies of historic photographs, call the SOHS at 541-773-6536. (Bicyclist, above SOHS No. 14528)
President Theodore Roosevelt created Oregon's only national park on May 22, 1902. Medford was a sleepy little orchard town. Horseless carriages were still a novelty, and airplanes were the stuff of dreams.
Local Indians had known of the lake for centuries, but word of its beauty soon spread across the United States after Jacksonville prospector John Hillman stumbled upon it on June 12, 1853. Hillman named it Deep Blue Lake, but that name never caught hold.
The lake would know several other names (Mysterious Lake, Lake Majesty, Lake Mystery) before a party of visitors from Jacksonville christened it Crater Lake on Aug. 4, 1869.
Will Steel

Visitors to the lake were few and far between during the first decades after Hillman's discovery. Deep winter snows blocked travel from November to May, and the trip from Medford still took five days by horse and wagon in 1900.
The law that Roosevelt signed creating Crater Lake National Park marked the end of a long campaign to preserve the lake and its surrounding forests. A Kansas native named Will Steel started the campaign after he visited the lake in 1885.
"It was a 17-year sell," said Kent Taylor, a ranger at Crater Lake National Park.
"It took 17 years of lobbying," said Taylor, "and it sounds like it was pretty constant lobbying."
Steel liked to tell a story about how he first heard of Crater Lake as a schoolboy on the prairie. One day while eating his lunch, he happened to look at a scrap of newspaper that had wrapped his lunch and discovered a story about Oregon's natural wonder.
His imagination fired by the newspaper story, Steel moved to Oregon as an adult. After his first visit to the lake, he dedicated himself to preserving it as a national park.
Steel found support from state legislators and many members of Oregon's congressional delegation. But he discovered legislators from other states opposed national parks that preserved scenic beauty by keeping out loggers and miners.
"It was a period when the conservation movement was just getting up a head of steam," said Taylor. "There was a lot of resistance from people who did not want to `lock up' the nation's resource."
Taylor said Steel's long struggle reflects an ongoing debate about resource development and conservation that probably began before the Declaration of Independence.
The debate continued into the 1990s, when President Bill Clinton's Northwest Forest Plan curtailed timber harvest on federal forest land.
"These arguments aren't new," he said.
Crater Lake became one of the earliest additions to the national park system. There were just five other parks (Yellowstone, Mount Rainier, Yosemite, Sequoia and King's Canyon) in 1902.
"A lot of the other parks — Grand Teton, Grand Canyon, Great Smoky Mountains — are Johnny-come-latelies," said Taylor.
Besides buttonholing lawmakers, Steel wrote a book ("The Mountains of Oregon") and formed a mountaineering club (the Mazamas, which still exists) to promote his cause. When Roosevelt, an ardent conservationist, entered the White House, Steel's tireless work finally found a receptive ear.
The number of park visitors grew steadily, from barely 1,000 in 1908 to more than 16,000 by 1919. By the late teens and early '20s the park boasted a number of buildings to serve visitors and house staff. In the 1930s the Civilian Conservation Corps built many of the buildings that are still being used.
By the 1990s, half a million visitors would come every year to see the incongruity of so much water where no one could imagine it should be.
In 1930, four years before he died, Steel said he still took great satisfaction from his work to preserve Crater Lake for all the "unborn generations (that) will profit from its glory."
"Money knows no charm like this," he said, "and I am the favored one. Why should I not be happy?"
The visitor's center at the park bears Steel's name in recognition of his long struggle.
 << previous —