Print Friendly
Crater Lake hosts marathon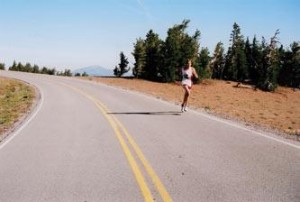 H&N Photo by Steve Matthies
Alex Peterson, 15, who will be a sophomore at Klamath Union High School in the fall competes in the Crater Lake Marathon at Crater Lake National Park.
Herald and News
Klamath Falls, Oregon
August 13, 2006
By Josh Petrie
CRATER LAKE NATIONAL PARK – With temperatures hovering around 40 degrees at the start and an average elevation of about 7,000 feet throughout the course, the runners at Saturday's Crater Lake Rim Runs marathon knew they were in for a tough race.
The two first-time Rim Run competitors who led the pack of 116 didn't know how tough until the 22-mile marker.
"To come out on top is just icing on the cake," Ragsdale said. "I've never won a marathon, so to have this be my first win is one I'll definitely always look back on as an old man."Todd Ragsdale, a 37-year-old produce stacker from Talent, charged through the course first in 3 hours, 5 minutes, 45 seconds, followed by Ruslan Tkebuchava, 25, in 3:11:59.
Before finishing, both men had to first scale the hill at Grayback, an area where racers face a 470-foot elevation gain in 2.2 miles. Ragsdale and Tkebuchava had heard about Grayback, but neither had experienced it firsthand.
"I'd rather do any of the other eight miles than those two miles up the hill," Ragsdale said. "It's such an abrupt change of pace. You're coming downhill for so long, you're beating up your quads on the downhill, then all of a sudden, it's just a whole other world.
"I figured if Rocky Balboa can do a comeback, I can keep swinging, too." Tkebuchava, from Vancouver, Wash., said Grayback didn't bother him as much as the longer hills in the second quarter of the race.
"Actually for me, it's more how long the hill is than how steep it is," he said. "I can charge up a steep hill and be done with it, but a long one you keep going and going and going, and it's a little bit discouraging."
For both men, the elevation changes throughout the race played more of a role than the high elevation itself.
"I've never really trained at altitude or run at this high altitude before, so I didn't know how that was going to affect me," Tkebuchava said. "But I didn't think it affected me that much."
Kentucky racer earns win
Donna Anderson came to Crater Lake from Danville, Ky., to run one last marathon before she turns 40.
She made the trip worthwhile, finishing fifth overall in 3:25:28 and winning women's overall honors.
Anderson not only enjoyed the victory, but also the scenery provided by the lake and surrounding forest.
"It'll be fun to call home and tell my kids and husband," she said. "The scenery is just amazing, and the crisp air, there was no humidity and the weather was awesome."
The toughest parts of the course for Anderson were the downhill miles after the halfway mark and, of course, Grayback. But she said she had a better run up the hill because of her comfort on the preceding flat section.
"I felt great on this flat stretch coming into campground," Anderson said. "I'm glad I felt good going into the hill, because it was hard. It was harder than I expected."
Brown does 100th run
For Harold Brown of LaGrande, this marathon marked a milestone in his road racing career.
Brown, 50, completed his 100th marathon – and 16th Rim Run – when he crossed the line in 4:16:52.
Brown ran his first marathon at Boise in 1981, and he knew after that race it would be far from his last.
"When I ran my first marathon in 1981, I had such a great time and felt so good, I immediately said to wife, 'I want to run 100,' " Brown said. "It's taken 25 years, and I've done it. It feels good, and I want to do another 100."
He has maintained his love for running by keeping things simple and having fun.
"I don't really train. If I get into a training regimen, it's no fun," Brown said. "I run the way I feel. If I feel like running hard, I run hard. If I don't feel like running hard, I'll take a nap.
"I'm out here for fun. I just like doing it."