Print Friendly
TV crew makes trek to Crater Lake's rim
Herald and News
Klamath Falls, Oregon
February 8th, 2008
By LEE JUILLERAT
H&N Regional Editor
Good morning, Crater Lake. Two members of a film crew shooting footage for a Good Morning America television segment at Crater Lake scheduled to run Sunday, experienced an unexpected morning at the lake's rim Thursday.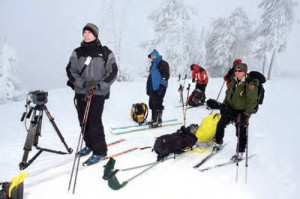 From left, Good Morning America correspondent Matt Frucci, audio technician Dale Jestice, Crater Lake ski patrol members Miko Smilenski and Niel Barrett, and acting chief ranger Pete Reinhardt wait for a break in the weather at the Crater Lake Rim Thursday.  H&N photos by Andrew Mariman.
Scott M. Douglas and Dale Jestice of Douglas Technical Services in Eugene, who do contract filming and audio work for several television networks, spent the night at the Crater Lake Café and Gift Shop in Rim Village, with Miko "Smiley" Smilenski, a member of the Crater Lake Ski Patrol.
They were among 10 people who skied or snowshoed three miles up the unplowed road from Crater Lake National Park's headquarters to the rim Wednesday for the filming.
Matt Frucci of New York, who is producing the Crater Lake segment for Good Morning America's weekend show, and others skied or snowshoed down from the rim after filming despite the bleak, snowy conditions.
"The camera guy was exhausted. He was beat," said Niel Barrett, a ski patrol member who helped coordinate the outing.
"We brought some blankets and pillows for them. We just found a place for them to crash," said Matt Folz of Xanterra, the company that operates the café and other park concessions.
The concept for the Crater Lake segment was conceived and produced by Frucci, who visited the park several summers ago. It will be used for Good Morning America's "Weekend Windows" program.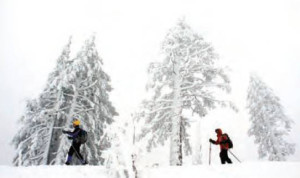 Fred Richter and Crater Lake ski patrol member Miko Smilenski make their way along the rim of Crater Lake on Wednesday.  H&N photos by Andrew Mariman.
"We're going to places you can't reach by a car," Frucci said the "Beyond the Roads" segment. Previous segments have included visits to the Dry Tortugas National Park, which is accessed by seaplanes or ferries, and the San Juan Mountains, visited by train.
"We've had it in the works a couple of weeks," Frucci said of the Crater Lake visit.
He and his crew planned to travel to the rim by snowmobiles or Sno-Cat from the North Entrance Road on Tuesday, but heavy snows have closed highways in the Diamond Lake area. The road from park headquarters to the rim is usually open but has been closed for nearly a week because of snowstorms and equipment breakdowns.
"Plan B was to go in the hard way," Frucci said, before he, Douglas and Jestice, along with a group that included Smilenski, Barrett, park volunteer Fred Richter, ranger Don Clark and chief ranger Pete Reinhardt, began the arduous trek on crosscountry skis and snowshoes through deep snow.
After filming at the rim, where Frucci interviewed Clark and Reinhardt, several in the group skied down to headquarters while others stopped at the café for coffee and warm beverages. Douglas and Jestice decided to spend the night, and Smilenski agreed to stay.
Barrett and Reinhardt skied down Wednesday evening, then skied back up to the rim to accompany Smilenski, Douglas and Jestice back to park headquarters.