Print Friendly
Lawrence Campbell Merriam Jr. (1923 – 2008)
Crater Lake Institute
Robert Mutch
May 22, 2009
Lawrence Campbell Merriam Jr. (August 31, 1923 – October 5, 2008) of Corvallis died Sunday at the Corvallis Manor. He was 85.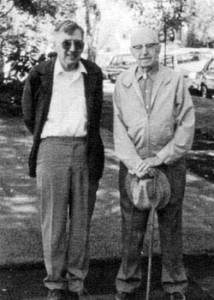 Larry Merriam (left) and Luther Cressman (right). Courtesy of Crater Lake National Park Museum and Archives Collection.
In 1991, Lawrence Merriam helped Crater Lake National Park historian, Steve Mark, conduct an oral history interview with famed Oregon archaeologist, Luther Cressman.
Lawrence Campbell Merriam Jr. was born Aug. 31, 1923, in Portland. The family moved to Berkeley, Calif., in 1926, when Lawrence Sr. joined the National Park Service. When his father became superintendent of Yosemite National Park, Lawrence went to Mariposa High School, a 60-mile bus ride from the park. He graduated in 1941. Lawrence studied at U. C. Berkeley and at the University of Nebraska. He joined the Navy during World War II and earned a commission as ensign from Columbia University in New York. He served in the Pacific Theater and was honorably discharged in 1946 as Lieutenant JG.
He married Katherine Wagner of Los Angeles in September 1947, and returned to Berkeley to complete his Bachelors of Science in forestry. He then had 10 years of experience with Long Bell Lumber Company, California; the Bureau of Land Management in Medford, Oregon; and Willamette National Lumber Company in Sweet Home. He appraised timber for the construction of Interstate 5, wrote park history, and did park planning and development with the Oregon State Parks system and Highway Department. During this time, he returned to academics at Oregon State University, earning a master's degree in forestry in 1958 and a doctorate in forest management in 1963.
He taught forestry at the University of Montana, Missoula, for seven years, and then became professor of forest recreation at the University of Minnesota from 1966 to 1986. During his University career, he gave consistent leadership and enthusiasm for education and research in forest recreation. While in this service, he provided leadership in establishing the Recreation Resources Management curriculum, the campus-wide Resource and Community Development Program, and the Urban Forestry curriculum. More than for this leadership, however, his students appreciated and remember him as a consistently challenging teacher and a faculty member who was genuinely concerned about students and their opportunities.
Lawrence C. Merriam Sr.
Lawrence Jr.'s father was appointed Superintendent of Yosemite National Park, June 3rd, 1937. Lawrence Sr. was a graduate of forestry from the University of California in 1921 and had worked with the emergency conservation program in the State Parks. It was Harold L. Ickes, Secretary of the Interior, who appointed Merriam Senior Conservationist in the National Park Service, and finally appointed him to the Superintendency of Yosemite National Park.
In August 1941 Merriam became Regional Director of Region Two, headquarters in Omaha, Nebraska. Later he transferred to Region Four in San Francisco, California, where he still holds the responsible job of Regional Director. — Guardians of the Yosemite (1961) by John W. Bingaman
To his faculty colleagues, Larry was a consistent source of leadership and wisdom mixed with humor. He was a recognized spokesman for recreational use in land management and policy at state and national levels. He coauthored two editions of the leading text in his field "Recreational Use of Wildlands." Further, he developed and regularly taught courses on the management of recreational lands, forest recreation planning, and recreation land policy. Especially significant were his efforts to bring a strong historical perspective to both faculty colleagues and students. He exhibited an untiring commitment to the welfare of students and their education. In doing so, he set an outstanding example for all.
Lawrence also wrote a number of magazine and professional journal articles and one book entitled "Oregon's Highway Park System, 1921-1989, an Administrative History." In 1968, he conducted a national park feasibility study in Paraguay for the United Nations. He and his wife Katherine traveled extensively, including to many Elderhostels.
Lawrence and Katherine's oldest son, Ken, was born with Down syndrome in 1950, and they founded the Oregon Association for Retarded Citizens (ARC of Oregon) in 1954. Lawrence was also on the board of the National Parks and Conservation Association in Washington, D.C., and involved with many conservation organizations throughout his lifetime.
John C. Merriam

Lawrence C. Merriam Jr.'s grandfather, John C. Merriam, had a strong influence on the formation and growth of the Crater Lake National Park's educational and interpretive program through the 1920's and 1930's. Merriam believed that more should be done than just preserving nature. An appreciation of it should be garnered through the public. A key piece of the educational program at Crater Lake National Park was the Sinnott Memorial Observation Station, of which Merriam had a strong part to play in acquiring funds, choosing it's location and design.
In 1986, Lawrence and Katherine retired to Corvallis and have been very active in community affairs. He was an early promoter of Greenbelt Land Trust, worked at the Benton County Historical Museum (and Horner Museum), helped with book sales for the library, contributed to the College of Forestry at Oregon State University and was on the board for Marys River Watershed Council and Benton County Parks Department. He was an avid stamp collector and active member of the First Congregational United Church of Christ.
A service will be at 1 p.m. Friday, Oct. 10, at the First Congregational United Church of Christ in Corvallis. In lieu of flowers, contributions can be made to Greenbelt Land Trust, Box 1721, Corvallis, OR 97339, Benton County Historical Museum, 1101 Main St., Philomath, OR 97370-0035, First Congregational Church, 4515 S.W. West Hills Road, Corvallis, OR 97333, or Oregon Association for Retarded Citizens, 1745 State St., Salem, OR 97301. Cards may be sent to Mrs. Katherine Merriam, c/o Department of Forest Resources, University of Minnesota, 1530 Cleveland Avenue North, St. Paul, MN 55108.
Note: the main body of this story is derived from an announcement by the University of Minnesota's Department of Forest Resources.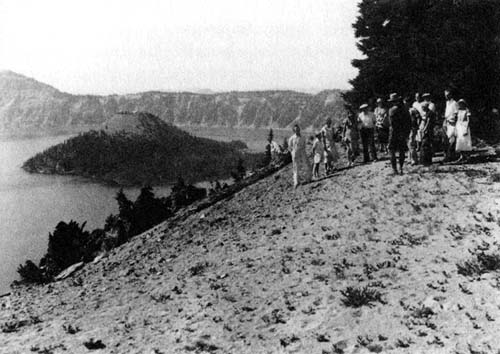 An unidentified ranger-naturalist speaking to visitors at the spot later named for John C. Merriam in Crater Lake National Park, 1936. (George Grant, National Park Service Historic Photograph Collection.) — Preserving the Living Past by Stephen R. Mark (see above, side panel)