Print Friendly
OIT Environmental Science Students Learn at Crater Lake
Oregon Institute of Technology
Online Newsroom
Oct. 22, 2009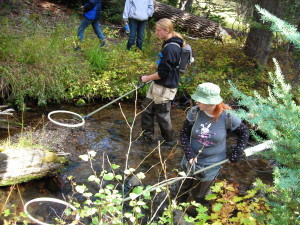 OIT students Alex Lindsey and Sarah Purvis monitor tagged fish in Sun Creek
Oregon Institute of Technology (OIT) is offering a new Biology course during the Fall 2009 Term. Students in the Field Methods in Environmental Science course gain exposure to environmental professionals and different careers in the environmental sciences. This course also creates unique learning opportunities for students and strengthens relationships with Klamath Basin agencies and partners. Through OIT's partnership with the National Park Service at Crater Lake National Park, students have the opportunity to apply field methods and state-of-the-art instrumentation to address real-world environmental problems. Field courses not only enrich the environmental science curriculum, but also provide lasting professional and personal experiences for both students and faculty.
"This course is a chance for students to piece together all aspects of their OIT education in relationship to a particular environmental issue," said OIT Environmental Sciences Assistant Professor Carrie Wittmer.
As part of this course, students worked with two Crater Lake National Park employees: David Hering, fisheries biologist, and Chris Wayne, Geographic Information Systems Specialist, to learn electrofishing basics, monitoring of fish fitted with Passive Integrated Transporder (PIT) tags, use of Geographic Information Systems (GIS) in field applications, life history of native bull trout (Salvelinus confluentus), riparian area vegetation, and water quality monitoring.
"Students get so engaged when they are outside, working with professionals who can connect their classroom experiences with hands-on science research," said Wittmer. "They were motivated by the commitment, dedication, and extensive knowledge of the Crater Lake researchers. It is experiences like these that can inspire students to make lifetime careers in the environmental sciences."
Students camped at Lost Creek Campground within the park and contributed to the bull trout monitoring program's long-term data set through this authentic field experience. Next year, OIT will offer a similar field course in another Klamath Basin location.
About the Bachelor of Science in Environmental Sciences
The bachelor's degree in Environmental Sciences at OIT is a degree in science methodology and applied analysis, focusing on applying state-of-the art field methods, instrumentation, data analysis and the study of environmental problems. Three technical emphasis areas are offered: Watershed Science, Sustainable Technologies, and Geographic Information Systems (GIS).
More information can be found at www.oit.edu/programs/enviro.