Print Friendly
Roosevelt historian: He was a 'thinker'; Brinkley will share stories from new book inaugural lecture
Mail Tribune
Medford, Oregon
BY JOHN DARLING
October 12, 2009
America's greatest environmental president was a Republican who governed over a century ago, says noted historian and author Douglas Brinkley, who will inaugurate the Southern Oregon Arts and Lecture series Oct. 17.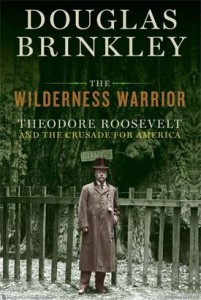 Roosevelt saved many species, set aside hundreds of millions of acres of "wild America," created many bird sanctuaries and "changed the landscape we live in," Brinkley said in a telephone interview.Brinkley will speak on his new book, "The Wilderness Warrior: Theodore Roosevelt and the Crusade for America," at 7:30 p.m. Saturday at the South Medford High School Auditorium. A fundraising reception is planned at 6 p.m. Friday at the Schneider Museum of Art in Ashland.
Roosevelt's rise to the presidency was a fortunate fluke of politics, as his passions went in a different direction. He graduated from Harvard in naturalist studies, published a book, "The Deer Family," while in the White House and counted among his best friends many noted ornithologists, including William L. Finley of Oregon.
Roosevelt also preserved much of wild Oregon, Brinkley said. He made Crater Lake a national park, set aside vast bird sanctuaries in the Klamath Basin and, working with Finley, created Three Arch Rocks National Wildlife Refuge on the Oregon Coast, a breeding ground for Steller sea lions and a major nesting site for many bird species.
"TR was the first environmental president," said Brinkley. "FDR (Franklin D. Roosevelt) came close. He helped save what TR did. Lyndon Johnson, through his Interior Secretary Stewart Udall, was good. Lady Bird Johnson got her husband to do a lot. And Jimmy Carter. They were the four horsemen for the environment. Obama? He's going to have to deal with global warming on a global level."
Theodore Roosevelt, winner of the Medal of Honor in Cuba action, was governor of New York for only two years, then vice president only six months before being thrust into the nation's highest office at age 42 by the assassination of William McKinley. He won the Nobel Peace Prize for helping end the Russo-Japanese War.
"He was a lover of Abraham Lincoln and he realized if Lincoln could free the slaves with an executive order, he could certainly create bird reservations and set aside forest lands," said Brinkley.
"TR was a hybrid Republican," he said, one who could favor a strong military and an imperial approach to international relations, but was "almost a socialist" domestically and "wanted a huge nation state" in preference to states' rights.
"He was educated in Darwin and (Thomas) Huxley (leaders in evolution science) and always applied science to nature," Brinkley said. "He was revolutionary "¦ and he called for global conservation, saying that birds don't have boundaries."
Brinkley bemoaned Roosevelt's "greatest mistake," pledging not to run for reelection in 1908. He added Roosevelt "never told a lie in his life (and) his honesty made him incorruptible. Money bored him. He was a dangerous opponent. Lobbyists could never get an audience with him."
Roosevelt went after big timber and mining interests and disparaged big game hunters as "despoilers" of nature, even though he himself hunted, Brinkley says. Chided by friend and famed naturalist John Muir for being "boyish and silly" because of his hunting, Roosevelt promised to "set down the gun" someday and encouraged hunters to pursue nature photography instead, Brinkley noted.
"The early conservation movement needed a ball-buster," he said. "He was kind of a prosecutor. He had to be the white hat. He was worried that people made heroes out of black hats like Jesse James. He was a very masculine protector of things.
"It was a fluke presidency, very unusual. We've never had a thinker like him. The odds of getting that kind of president were nil. He was able to save great parts of America. How close it all came to being destroyed. Congress had already voted to mine the Grand Canyon for zinc, lead and asbestos" before Roosevelt made it a national monument, Brinkley said.
A history professor at Rice University, Brinkley has written many books on U.S. presidents, including FDR, Carter, Ronald Reagan and Gerald Ford. He's also written books on Hurricane Katrina, D-Day, the Mississippi River, beatnik Jack Kerouac, Hunter S. Thompson and Henry Ford.
His approach to writing popular, best-selling history, he noted, is to steep himself in some of his favorite authors — Ken Kesey, Thomas Wolfe, Norman Mailer, Francis Parkman ("The Oregon Trail" is his favorite book) — and then "try to have a really nice narrative flow, providing lots of information and color. I read a lot of nature writing in the process."
John Darling is a freelance writer living in Ashland.