Print Friendly
Prescribed burns set for next few months: Agencies will burn nearly 15,000 acres, mostly in Jackson, Josephine counties
Mail Tribune
Medford, Oregon
BY PAUL FATTIG
October 9, 2009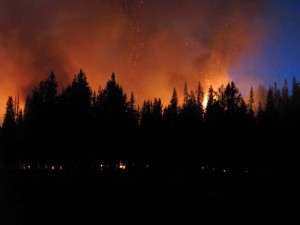 Desert Ridge fire, at night,
Crater Lake National Park
Federal agencies plan to burn more than 14,500 acres of forestlands this fall and spring, most of it in Jackson and Josephine counties.
The annual prescribed burning is intended to improve forest health while reducing the potential for summer wildfires that may threaten homes in rural communities.
Plans call for burning 6,994 acres on the U.S. Bureau of Land Management's Medford District, 6,222 acres in the Rogue River-Siskiyou National Forest and about 1,400 acres in Crater Lake National Park.
"Prescribed burning reduces the amount of fuels in the forest by removing brush and other material such as branches, leaves and smaller trees," said Rob Budge, the forest's deputy fire staff officer, in a prepared statement.
"It will help thin out the area, which contributes to overall forest health," he added. "Prescribed burns over designated areas reduce the risk of large-scale wildfires that threaten adjacent communities."
In addition to reducing the threat of a catastrophic fire, the prescribed burns return nutrients to the soil, reduce risk of insect and disease outbreaks and create better wildlife habitat.
The goal is to burn as much of it as possible this fall, but how much depends on the weather, officials said.
The prescribed burns are controlled fires that include either understory burning or burning hand piles of woody debris, brush and small saplings. Underburning is a low-intensity ground fire intended to replicate a natural burn. If done properly, the prescribed burns don't harm the larger trees, officials note.
In an effort to reduce smoke pollution and improve dispersal, the agencies work with the Oregon Smoke Management Office. Several conditions must be met before burning is allowed, including proper humidity, wind speed and direction, temperature and fuel moisture.
Firefighters and fire suppression vehicles will be on hand in the event they are needed.
The forest planned burning program, expanded by fuels treatment provided by the federal stimulus package, includes 2,693 acres on the Wild Rivers Ranger District, 1,937 acres in the High Cascades Ranger District, 1,302 acres on the Siskiyou Mountains Ranger District, 248 acres on the Gold Beach Ranger District and 42 on the Powers Ranger District.
The Medford District plans call for burning 1,924 acres on the Glendale Resource Area, 1,710 acres on the Butte Falls Resource Area, 1,590 acres on the Ashland Resource Area and 1,370 acres on the Grants Pass Resource Area.
At Crater Lake National Park, the National Park Service plans to underburn 1,350 acres on a site known as the Phoenix prescribed burn unit located on the northeast section of the park. The agency also will burn 50 acres of debris piles just east of Annie Creek.
To hear a daily updated recording of prescribed burns for the forest or the BLM district, call 618-2354 or 1-800-267-3126.