Print Friendly
Bruce Warren Black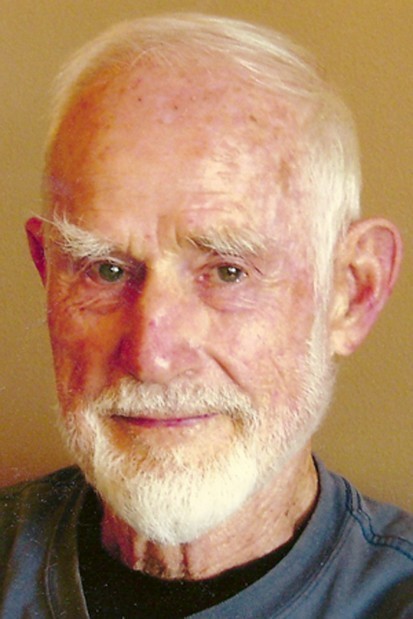 Jan. 27, 1923 — April 28, 2011
Bruce Warren Black was born Jan. 27, 1923, and died April 28, 2011, in the arms of his beloved wife, Barbara, at their home in Ashland. He was a longtime Corvallis resident.
His life was rich in love, and filled with joy, challenges and adventure. Bruce was born in Bakersfield, Calif., and was raised by his parents, Isabel and Merrill Black, in the High Sierra, where his father was stationed with the Edison Company. As a teenager, Bruce was often away for days, hiking, skiing and rock climbing. He served in the U.S. Army ski troops during World War II.
In 1945, while working as a seasonal fire guard at Sequoia National Park, he met the love of his life, Barbara Birch, and they were married in December 1945 at her parents' house in Whittier, Calif. She continued her teaching career, and he returned to classes at University of California, Berkeley, earning a degree in forestry.
In 1948, he began a long and distinguished career with the National Park Service. He worked in Sequoia and Kings Canyon National Parks, Glacier Bay National Monument, Joshua Tree National Monument, Crater Lake National Park, Cape Hatteras National Seashore, and the Regional Office in San Francisco, Calif., before retiring from the Natchez Trace Parkway.
Some of the highlights of his Park Service career were doing search and rescue, patrolling the back country in Sequoia and being skipper of the Nunatak in Glacier Bay.
He shared his love of the mountains with many people, but especially with Barbara, their children and grandchildren. Bruce and Barbara were still taking backpacking trips in their late 70s. They took their three older grandsons on camping and fishing trips, teaching them a love of nature; Bruce climbed the South Sister with the two older ones when they turned 12, and he encouraged the younger two, who backpacked with the John Muir School.
Bruce was deeply religious, and built his life on the principles of generosity, service, hospitality, integrity, care for all of creation and respect for every human being. He was an active member of the Episcopal Church. He was confirmed at St. Peter's by the Sea Episcopal Church in Sitka, Alaska.
He was a Cursillista, a Stephen Ministry Leader and a lay reader, and served on the vestries of All Saints Episcopal Church in Tupelo, Miss., and the Episcopal Church of the Good Samaritan in Corvallis, where he was senior warden. He was also a board member at Samaritan Village, and a member of the Diocesan Commission on Ministry.
Bruce's other passions included gardening, birding and traveling. He kept the family in fresh vegetables nearly all year around, and grew so many blueberries and strawberries that there were some to dry and freeze. He and Barbara kept their yard full of bird feeders and knew every bird in town. They also went on birding trips with friends.
Bruce and Barbara took Elderhostel trips to Mexico, Ecuador, Scotland and China. They always made a point of studying the language before their trip, and in the last few years enjoyed getting to know conversation partners from Crossroads Conversation School.
Bruce and Barbara took annual sailing trips in Canada with their daughter Claudia and her husband, Carl, with the highlight being a return trip to Glacier Bay, which Bruce said was a dream come true.
When Bruce realized that his health was in precipitous decline, he and Barbara moved to Ashland to be nearer their daughter Pauline and her family. Once settled in their new home, Bruce courageously chose to stop prolonging his life through medication, and joyfully ate chocolate in spite of his diabetes.
He is survived by his wife, Barbara; their daughter, Patricia Black (husband Michael Tompkins) and her son, Galal Al-Alas (partner Laura Adams), all of Crescent City, Calif.; their son, James Black of Niland, Calif.; their daughter, Claudia Black (husband Carl Hosticka) of Tualatin, her sons, Eric Keim (wife Katie) of Beaverton and Jeremy Keim (partner Lindsay Smith) of Washington, D.C.; and their daughter, Pauline Black (husband Edwin Johnson) and their children, Wolf and Ariana, all of Ashland, and their son, Eric (sweetheart Melissa) of Stockton, Calif.
Eric and Katie Keim are the parents of Bruce's great-granddaughter, Kennedy Elise. Bruce is also survived by his sister, Sally Murdock of San Diego, Calif., and her sons, Keith and Kevin Shealor and Kai Murdock.
All are welcome to attend a celebration of Bruce's life at 2 p.m. Saturday, June 11, at Good Samaritan Episcopal Church in Corvallis. A reception will follow the service. In lieu of flowers, please consider a donation to Episcopal Relief and Development, Hospice or the National Parks Conservation Association.
"Climb the mountains and get their good tidings. Nature's peace will flow into you as sunshine flows into trees." — John Muir
"This grand show is eternal. It is always sunrise somewhere…" — John Muir
Related Links