Print Friendly
Great Gray Owls of Crater Lake National Park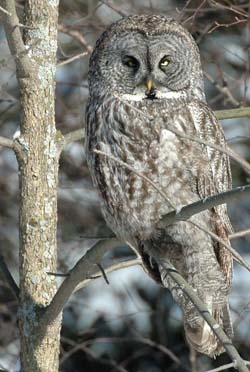 Great Gray Owls are the largest owl in North America and the longest in the world by body size. It can have a wingspan exceeding 60″.
An essay in "Nature Notes", 1952 tells of the excitement of seeing one of these rare creatures in the wild. Few of us have had the experience.
---
On Tuesday, the 15th of July, 1952, we were not looking for the great gray owl. In fact, if we had been told that we might find and photograph a specimen of the large bird with a wing-spread of four and a half feet or more, we would have been most hesitant about believing it.
What took us from Crater Lake to an area of lodgepole pines a few miles west of Fort Klamath that day was the information that on a deserted farm known as "the old Turner place" we might find a coyote family. Our informant did not know the exact location of this family, but his idea seemed to be that it was living among the roots of a fallen tree. The prospect of seeing and, with luck, photographing coyote pups was an exciting one.
About the middle of the afternoon we arrived. Our first impression was that the woods were full of fallen trees. Which direction to take?…read more….
 Nature Notes From Crater Lake