Print Friendly
A Brief Guide to the Parapet View, Sinnott Memorial, Crater Lake National Park by John Campbell Merriam, 1938
 View 4: Action of Streams and Glaciers on the Mountain in the Courses of Its Building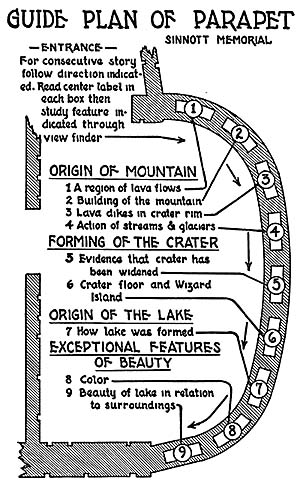 The finder at the left of this box is directed toward a heavily polished and scratched rock surface on the edge of the crater. This type of wear is known to be produced by slow movement of ice carrying sand, pebbles, and boulders. Glacial polish and thick beds of material carried by glaciers are common around the mountain. They are present on the surface rock and seem also to appear between earlier layers, showing that glaciers were present at various stages in the history of the mountain.In the section of layers forming the rim of the mountain there are evidences of wash by water. In some places this is shown by cutting of valleys; at others by accumulation of water-carried ash, gravel, and boulders.
Leaflet prepared by a committee of the National Academy of Sciences and the Carnegie Institution of Washington as an aid to the visitor. 8 pp. Washington: Carnegie Institution of Washington, 1933.
Broad valleys cut at various points around the crater are characteristic of glacial action. Kerr Notch is such an evidence of glacial erosion. It was through a similar ancient glacial notch that the lava at Llao Rock flowed out, as shown in the finder to the right of this box.