Print Friendly
Crater Lake National Park, Oregon, 1918
 The Discovery of Crater Lake
Surrounded by canyons, ravines and pinnacled rocks, and belted by a wilderness of boulder-strewn forests, the region for years was inaccessible, and unexplored except by the more venturesome who were attracted by stories of the Indians of this mystery lake in its fantastic setting. Yet its discovery was accidental; it occurred in 1853 while an exploring party was searching in the Cascade Mountains for the famous Lost Cabin Mine. The mine they did not find, nor has it ever been found, but instead they came upon this beautiful lake in the crater.
"Suddenly we came in sight of water," writes J. W. Hillman, the leader of the party. "We were much surprised, as we did not expect to see any lakes, and did not know but that we had come in sight of and close to Klamath Lake. Not till my mule stopped within a few feet of the rim of the lake did I look down, and if I had been riding a blind mule I firmly believe I would have ridden over the edge to death."
A dispute arose over the choice of a name, the party dividing between Mysterious Lake and Deep Blue Lake.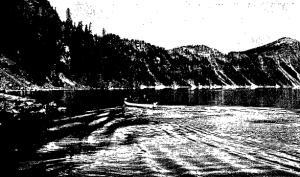 Motorboating and fishing in the heart of an extinct volcano is novel sport
The advocates of Deep Blue Lake won the vote, but in 1869 a visiting party renamed it Crater Lake, and this by natural right became its title.