Print Friendly
Crater Lake National Park, Oregon, 1918
 Easy Mountaineering
Crater Lake National Park offers the mountain climber a novel field and many heights, some of which can be reached without great exertion; good horse trails and roads available for autos lead to several prominent summits. Union Peak and Scott Peak are perhaps the most remarkable. Union Peak, 7,698 feet above sea level, is about ten miles southwest of Crater Lake Lodge, and can be reached by saddle animals to within a quarter of a mile of its conical top. The last 700 feet is very steep, but the footing is secure. Unlike most of the mountains in this region, Union Peak is not a cinder cone, but the solid core of an ancient volcano. The view embraces the entire park The trail to Bald Top extends beyond Union Peak three miles, but it is very rough and steep. Scott Peak, 8,938 feet, is to the east, twenty-two miles from Crater Lake Lodge, and rises 700 feet above any other point in the vicinity of Crater Lake It is reached by auto to Cloud Cap, thence two miles by foot trail. There is an excellent trail to the to s of Garfield Peak, 8,060 feet, one and a quarter miles east of The Lodge. It can be made by foot or saddle animal. From its summit, which overlooks the lake, can be seen the Klamath Lake region to the south and the green valley of the Wood River. The lofty snow-capped peaks of Mt. McLoughlin and Mt. Shasta loom beyond. Mount Thielson, 9,178 'feet, and Diamond Lake are seen to the north of Crater Lake, a region which it is proposed to include in a Greater Crater Lake National Park.
The Watchman, five miles north of The Lodge, and Glacier Peak, 8,156 feet, six miles north and the highest peak on the rim, are on the east side of the lake, and each is reached by auto and easy foot trails. Vidae Cliff, on the rim, rises three miles east of The Lodge, and has a good horse trail to the top, distance seven miles.
A complete list of the principal points of interest, with heights and distances, is shown on another page.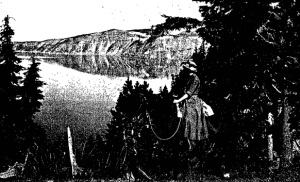 Horse trails lead to mountain heights and to many vantage points upon the rim.