Print Friendly
General Information Regarding Crater lake National Park, Season of 1917
 How To Get There.
The park may be reached from Klamath Falls and Medford, on the Southern Pacific Railroad. Medford is on the main line between San Francisco and Portland—the Shasta Route, while Klamath Falls is on the Klamath Falls branch, which connects with the main line at Weed, Cal.
The Southern Pacific Co. will sell excursion tickets to Crater Lake from June 29 to September 25, inclusive. Rates may be obtained from local agents.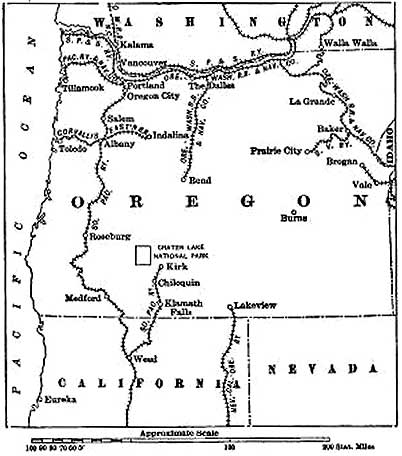 Railroad routes to Crater Lake National Park.
Section 27 of circular 2917 of the Southern Pacific Co. contains the following regulations governing stop-overs to visit Crater Lake:
All classes of tickets covering passage between Roseville or Davis, Cal., or points beyond, and Portland, Oregon, or points beyond, will be honored in direction they read any day from July 1 to September 25, 1917, and during same period of subsequent years, via Weed, Cal., to Klamath Falls or Kirk, Oregon, and from Medford, Oregon, or vice versa, without additional charge, when passengers desire to visit Crater Lake National Park, Oregon
Between Klamath Falls or Kirk1 and Medford, Ore ., passengers must pay their own transportation expense. * * * (Rates will be found on page 9.)
Passengers desiring to make the side trip should so inform train conductor into Klamath Falls or Kirk1 or Medford, as may be. The latter will indorse tickets "Off at Klamath Falls," or "Off at Kirk,"1 or "Off at Medford," as may be, showing train number and date, thereaftor signing his name.
Extension of limits. —On application of holder to agent at Klamath Falls on southbound tickets and to agent at Medford on northbound tickets, limits on first or second-class one-way continuous trip tickets will be extended the number of days consumed in making the Crater Lake National Park trip, not to exceed 10 days. The time consumed in making Crater Lake trip will be reckoned from date of conductor's indorsement on ticket as per item 1, this section.
Baggage—Hand baggage not to exceed 25 pounds in weight will be transported with each whole-fare passenger free of charge between Klamath Falls or Kirk and Medford. Excess baggage charges will be at rate of 2 cents per pound. Trunks or other heavy baggage will not be handled over the route shown, necessitating their transportation over Southern Pacific Co. direct.
See baggage tariff No. 3 (F. W. Hodges, agent), I. C. C. No. 7, C. R. C. No. 5, P. S. C. Or. No. 1 supplements thereto or reissues thereof, relative waiving charge for storage of baggage at specified points for passengers making Crater Lake National Park trip as above.
The Crater Lake Co. operates a daily automobile service between Medford and Crater Lake and between Klamath Falls and Crater Lake.
Automobiles leave the Hotels Medford and Nash, Medford, at 9 a. m. daily, stop for lunch at Prospect, and reach Crater Lake at 4 p. m. Returning leave Crater Lake at 9 a. m. daily, reaching Medford in time to connect with the outgoing evening trains.
Automobiles leave White Pelican Hotel, Klamath Falls, at 7.30 a. m., and arrive at Crater Lake Lodge at noon; returning, leave Crater Lake Lodge at 1 p. m., and arrive at Hotel Pelican at 6 p. m.
Automobile rates from Medford and Klamath Falls to Crater Lake.
Medford to Crater Lake and return $15.00
One way (either direction) 8.50
Klamath Falls to Crater Lake and return 12.50
One way (either direction) 8.00
Medford to Crater Lake, thence to Klamath Falls, or vice versa 15.00