Print Friendly
CRATER LAKE AND MOUNT SCOTT
PERTINENT FACTS ABOUT CRATER LAKE NATIONAL PARKS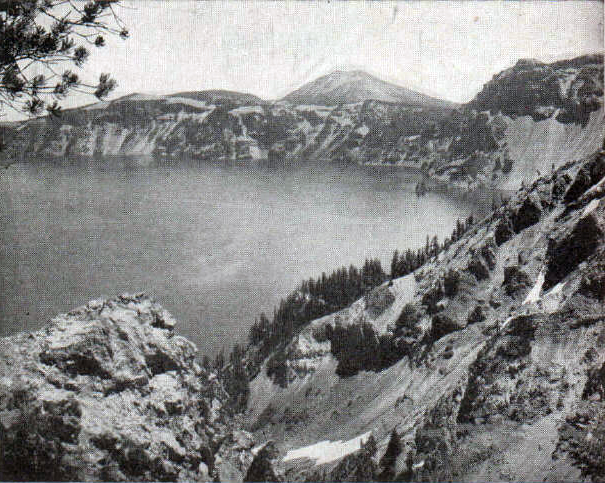 Park area-249 square miles, 159,360 acres.
Circumference of rim-20 miles.
Diameter of rim-5.7 miles average.
Diameter of lake-5.0 miles average.
Greatest known depth of lake-1,996 feet.
Greatest rim height above lake-1,979 feet (at Glacier Peak).
Least rim height above lake-550 feet (at Kerr Notch).
Average height of rim–Over 1,000 feet.
Earliest authentic reported discovery-1853.
Estimated height of original Mount Mazama-Over 15,000 feet.
Park created-May 22, 1902. .
Road System
Construction of Rim road begun-1913.
Rim road opened to travel-1919 (grading completed 1920). Cost of system to date-$400,000.
Maximum grade-10% for short stretches only.
Length in miles-84 miles.
Elevation of Important Points
Feet
Lake Surface ………………………. 6,177
Glacier Peak ……………………….. 8,156
The Watchman …………………….. 8,025
Llao Rock …………………………. 8,046
Mount Scott ……………………….. 8,938
Union Peak ………………………… 7,698
Garfield Peak ………………………. 8,060
Wizard Island ……………………… 6,940
Crater Peak ……………………….. 7,265
Trails-Distances from the Lodge
Miles
Garfield Peak ……………………….. 1.25
Union Peak ……………………….. 10.5
Mount Scott ……………………….. 22
The Watchman ………………………. 5
Glacier Peak ………………………… 6
Llao Rock ………………………….. 8
Anna Springs ……………………….. 5
Garden of the Gods …………………… 5
Sand Pinnacles ……………………… 15.5
Crater Peak …………………………. 9
Eagle Cove …………………………. 1+
Sun Notch ………………………….. 7
Devils Backbone ……………………… 6.5
Wizard Island ……………………….. 3.5
Vidae Cliff …………………………. 3
— next >>