Print Friendly
Cruise Report: R/V Surf Surveyor Cruise S1-00-CL, Mapping the Bathymetry of Crater Lake, Oregon, 2000
 Daily Log
Saturday, July 22
The US Geological Survey (USGS), C&C Technologies, Inc. (C&C), and University of New Hampshire (UNH) groups all arrived at Crater Lake National Park on Saturday, July 22. We all met with the National Park Service (NPS) personnel and were told that the commercial helicopter contracted by the NPS for our deployment had not been released from fire-fighting duties in Montana. The NPS was working on another commercial helicopter operator as well as the possibility of using a military helicopter as a contingency. The contracted helicopter company (Erickson Air Crane) had concerns about our estimated weight of the boat and they required us to have accurate weights on the boat and the equipment van.
Sunday, July 23
We dispatched the boat to a crane company in Medford, OR and the boat and the equipment van were weighed using a NPS scale hung from a mobile crane. The boat and equipment van were then trucked to Crater Lake NP. Sunday afternoon was spent unpacking the equipment van, weighing each item in it, and then re-packing the van. In the late afternoon we were informed by NPS that a Monday helicopter lift was not possible but Tuesday morning remained a possibility.
Monday, July 25
Early Monday morning we were informed that the commercial helicopter would not be released from fire-fighting duties so the NPS immediately began to inquire about the possibility of a military helicopter. By Monday afternoon it appeared a high likelihood that a US Army Reserve Chinook helicopter could be called in to lift the boat into the lake.
Tuesday, July 26
We were told by the NPS at a 0800 hr meeting on Tuesday to truck the boat up to the rim of Crater Lake (Fig. 14) and prepare for a military helicopter lift at about noon. At about 0900 hr we were told that the military helicopter was in the air. However, at about 1100 hr we were informed that that there would be a two-hour delay in the arrival of the helicopter. And finally, at about 1600 hr we were told that there would be no helicopter lift on Tuesday and that a Wednesday lift was even questionable. Apparently, someone in the chain of military command in Atlanta, Georgia was holding up approval for the lift.
Wednesday, July 27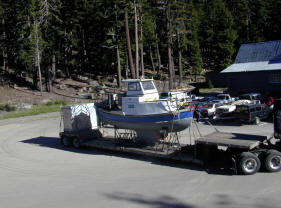 Figure 14. RV Surf Surveyer leaving the Crater Lake NP staging area on its way to the helicopter landing site.
We were informed by the NPS early Wednesday morning that the US Army authorities in Atlanta were unwilling to give verbal approval and required signatures up their chain of command. They suggested this process might take several days. By 1100 hr we were informed that there would be no helicopter operations on Wednesday.