Print Friendly
Hydrology of Crater, East and Davis Lakes, Oregon by Kenneth N. Phillips
 DAVIS LAKE
WATER SUPPLY TO THE LAKE
SURFACE RUNOFF AND GROUND-WATER INFLOW
Most of the water in Davis Lake comes from Odell Creek. The flow of that stream is augmented by springs and creeks that enter dowstream from the gaging station near Crescent, so that the total water supply is considerably greater than that at the station (fig. 10). The average flow near Crescent (drainage area, 39 sq mi) for 29 years, 1933-62, was 81.3 cfs, and the corresponding estimated flow at Davis Lake (drainage area, 98 sq mi) is 150 cfs.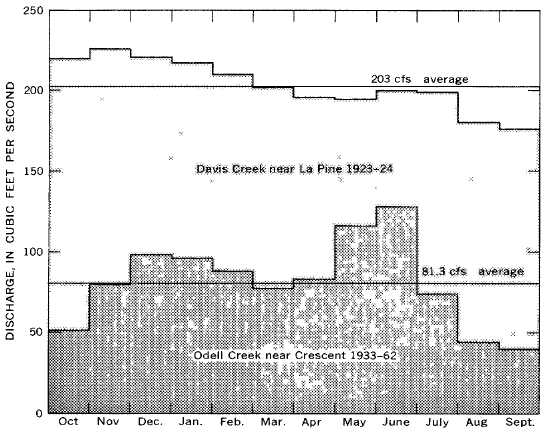 Figure 10.-Average monthly flows of Odell Creek near Crescent and Davis Creek near La Pine for periods of record available.
No simultaneous records of discharge are available for Odell and Davis Creeks. The records for Odell Creek, 1933-62, are about equal to the long-term average, on the basis of the longest records available at nearby unregulated spring-fed streams (Metolius, McKenzie, and Williamson Rivers). On the contrary, those for Davis Creek, 1923-24, were obtained in a year when the runoff of other spring-fed streams was below average. The average flow of Davis Creek is therefore probably more than that of 1923-24, and is estimated as 220 cfs.