Print Friendly
Klamath Network Water Quality Report (Phase II)
Section 3: Past Inventory, Monitoring, and Research Activities in the Klamath Network Park Units
Whiskeytown National Recreation Area (WHIS)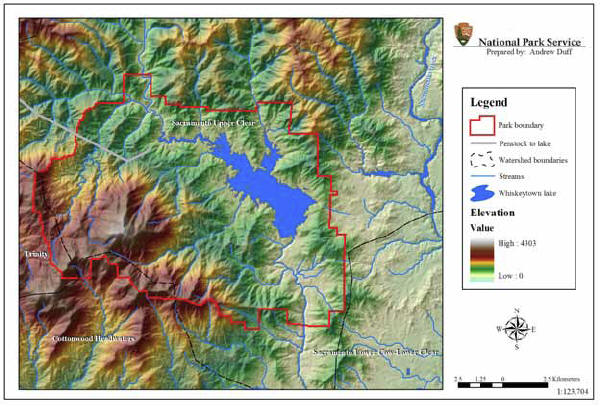 Figure 9: Aquatic Resources and Watershed Boundaries of Whiskeytown National Recreation Area, California, NPS Klamath Network
General Summary of Past Activities: Aquatic resource inventory, monitoring and research activities at Whiskeytown National Recreation Area have focused on the water quality of Whiskeytown Lake and its inlet and outlet streams. Water quality sampling has emphasized documentation of potential resource perturbation due to: (1) human recreation activities and waste disposal; (2) point source pollution due to past mining activities and practices; (3) point source pollution due to clandestine-illegal marijuana cultivation; and (4) impacts due to logging and road building. Additional projects have been initiated or completed to: (1) assess the baseline water quality, biology and habitat conditions of the major Whiskeytown watersheds; (2) demonstrate the potential for watershed restoration; (3) determine the status of amphibians and turtles; and (4) survey the status of and potentially restore anadromous salmonids in Clear Creek.
Whiskeytown National Recreation Area (Figure 9) was authorized by Congress on November 8, 1965 ("…to provide…for the public outdoor recreation use and enjoyment of Whiskeytown reservoir and surrounding lands…") and established on October 21, 1972. Whiskeytown is the only unit of the Whiskeytown-Shasta-Trinity National Recreation Area administered by the National Park Service; the Shasta and Trinity units are administered by the US Forest Service. The Whiskeytown unit (17,198 ha; 42,497 ac) is located at the northern end of the Sacramento Valley, eight miles west of Redding, California, and Whiskeytown Lake is surrounded by shrubland, oak woodland, and montane forests.
Whiskeytown Lake was created by the Bureau of Reclamation in 1962, when the Clair A. Hill Whiskeytown Dam, blocking Clear Creek, was completed. The reservoir at full capacity contains 29,604 ha-m (240,000 ac-ft) of water and serves as the domestic water supply for the California cities of Redding, Old Shasta, Centerville, Keswick, and Happy Valley. It is also one of several reservoirs that store water for the Central Valley Project
Seven major streams empty directly into the reservoir: Clear, Mill, Brandy, Crystal, Boulder, Willow and Whiskey Creeks. Intermittent streams abound throughout the park unit, and many springs are found at higher elevations.
Whiskeytown has approximately 850,000 visitors annually, with the majority of visitation concentrated in and around the reservoir. Sailing, skiing, fishing, swimming, and kayaking are popular recreational activities. There are two permanent marinas, one additional boat launch site, three designated campgrounds, two developed day use beaches, and numerous smaller beaches along the reservoir. The reservoir is stocked annually with both native and non-native fishes by the California Department of Fish and Game.