Print Friendly
Applegate Peak – Prominent Geological Features of Crater Lake National Park
 #1 on the map -lower rim area.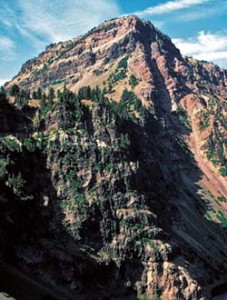 View southwest of Applegate Peak and 280-meter-high cliff below Sun Notch from Phantom Cone, Scientific Investigations Map 2832, Sheet 3 of 4, Crater Lake National Park,Geologic Map of Mount Mazama and Crater Lake Caldera, Oregon (2008), by Charles R. Bacon.
This peak was named for Oliver C. Applegate (an early Oregon pioneer) by a 1872 group of visitors to Crater Lake. Applegate Peak caps the prominent rock wall of the west side of Sun Notch at the caldera rim.
— next >>
Crater Lake National Park
Prominent Geological Features Map
Note: the numbers associated with each feature name above correspond to their place on the Custom Google Map