Print Friendly
The Geology and Petrography of Crater Lake National Park, 1902
 PART I.
MOUNT MAZAMA.
LAVAS OF MOUNT MAZAMA.a
DACITES.
LLAO ROCK DACITE FLOW.
The Llao Rock flow is one of the most interesting of the region and is the most conspicuous. Its general outline in cross section filling a valley of the rim may be clearly seen (Pl. IX, A) across the lake. The flow is more than a mile wide along the crest and over 1,200 feet thick in the middle, tapering to edges on both sides. Considering its great thickness the flow is remarkably short, for it can be traced with certainty only about a mile from the rim, although it may extend for some distance farther beneath the pumice-covered plain. On the northeast it tapers rapidly to an edge, and ends in a mass of pumice nearly 100 feet thick. The lower portion of this pumice is clearly stratified, but in the upper part the lines are less distinct. The valley filled by the flow is small and has an irregular surface. On the northeast side there is a prominent mass of pumice (Pl. IX, A), under the Llao Rock flow, but on the opposite side there is little or no pumice. On the summit of Llao Rock there is much pumice. On the western slope it has been largely swept away, exposing the underlying rock. The edge of the flow, and, in fact, the entire periphery, is practically obsidian; the interior portion is more crystalline. Where glassy it is rich in small feldspars (102). On the summit, which has suffered much from erosion, a portion of the flow (103), originally some distance beneath the surface, is exposed, and on this account the rock is on the whole less glassy than near the border.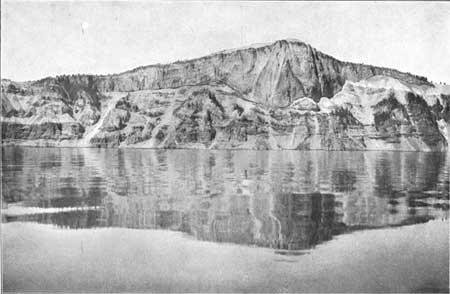 Plate IX—A. LLAO ROCK.
Plate IX—B. FLOW OF TUFFACEOUS DACITE EAST OF PUMICE POINT.
An imperfect columnar structure is given to the dacite of Llao Rock by two sets of joints. One set is radial from the lake and perpendicular to the rim; the other set crosses the first nearly at right angles. They are best developed in the lower portion of the flow. Near the surface a curved structure due to flowing is marked. Below, the flow structure is straight and nearly horizontal.