Print Friendly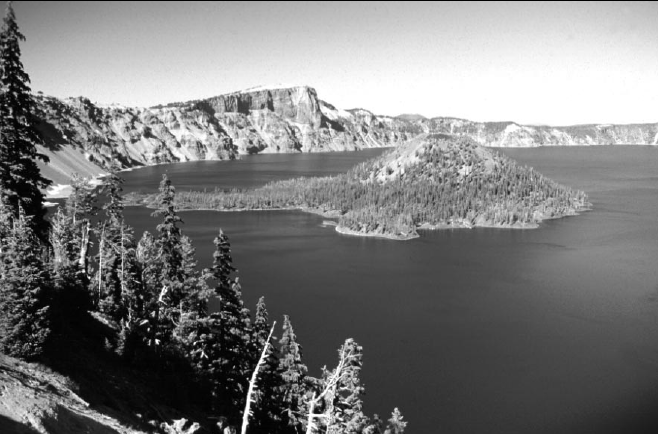 COVER: View of Crater Lake from the south rim of the caldera. The caldera formed 7,700 years ago by collapse of the volcano known as Mount Mazama during the largest explosive volcanic eruption in the past 400,000 years in the Cascades. The lava flows and volcanic deposits exposed in the caldera walls record the growth of Mount Mazama, which attained an elevation of roughly 12,000 feet before the caldera collapsed. The prominent cliff on the north rim of the caldera is Llao Rock, a lava flow that was erupted just 200 years before the caldera-forming eruption. The cinder cone and lava flows of Wizard Island were erupted within a few hundred years of formation of Crater Lake caldera. Photo by David E. Wieprecht.
Volcano and Earthquake Hazards in the Crater Lake Region, Oregon
by Charles R. Bacon1, Larry G. Mastin2, Kevin M. Scott2, and Manuel Nathenson1
1 U.S. Geological Survey, 345 Middlefield Road, Menlo Park, California
2 U.S. Geological Survey, David A. Johnston Cascades Volcano Observatory, Vancouver, Washington
OPEN-FILE REPORT 97-487
U.S. DEPARTMENT OF THE INTERIOR
U.S. GEOLOGICAL SURVEY
VANCOUVER, WASHINGTON
1997
U.S. DEPARTMENT OF THE INTERIOR
BRUCE BABBIT, Secretary
U.S. GEOLOGICAL SURVEY
MARK SCHAEFER, Acting Director
URL: http://vulcan.wr.usgs.gov/Volcanoes/
This report has not been reviewed for conformity with U.S. Geological Survey editorial standards or with the North American Stratigraphic Code. Any use of trade, product, or firm names in this publication is for descriptive purposes only and does not imply endorsement by the U.S. Government.