Print Friendly
Soil Survey of Crater Lake National Park, Oregon
 Introduction
By Gerald Weinheimer
Fieldwork by Thomas Clark, Chris Jasper, Amanda Moore, and Gerald Weinheimer
United States Department of Agriculture, Natural Resources Conservation Service, in cooperation with United States Department of the Interior, National Park Service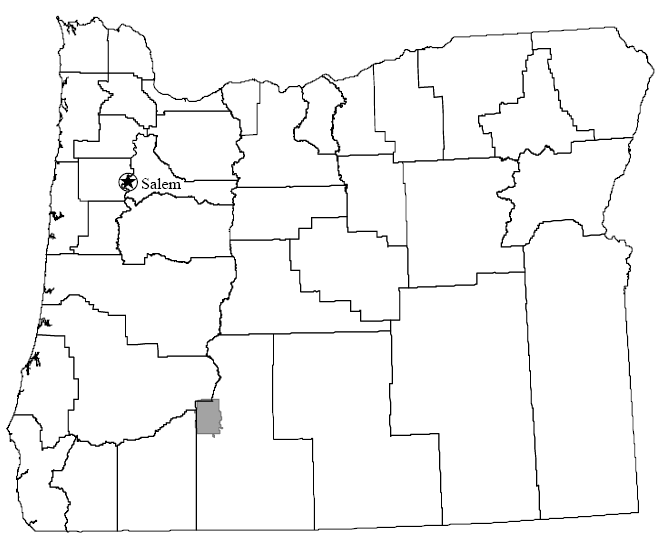 Location of Crater Lake National Park in Oregon.
CRATER LAKE NATIONAL PARK is in southwestern Oregon, on the divide of the High Cascades. It lies in a region with a long history of volcanic and glacial activity, extending from Lassen Peak in northern California northward into Canada. Crater Lake occupies the collapsed caldera of the once majestic Mount Mazama. The intense deep blue color of the lake combined with the physical relief and coloration of the rim of the caldera creates spectacular scenery.
The lake is 7.0 to 9.5 kilometers (4.5 to 6.0 miles) wide, has 32 kilometers (20 miles) of shoreline, and has a surface area of 5,339 hectares (13,192 acres). At its deepest point, the lake is 592 meters (1,943 feet) deep, making it the deepest lake in the United States. The landscape surrounding the rim of the caldera slopes downward and outward toward the boundaries of the park and is covered by volcanic debris of various ages. Streams originating on the slopes of Mount Mazama form the headwaters of the Rogue River to the west or join the Klamath River drainage system to the south and east.
The rectangular park surrounding the lake comprises approximately 74,552 hectares (184,144 acres) and is characterized by varied topography that rises from 1,219 meters (4,000 feet) in Red Blanket Canyon in the southwestern corner of the park to 2,720 meters (8,926 feet) at the summit of Mount Scott. Other topographic high points are Union Peak, Hillman Peak, and Timber Crater. Numerous cinder cones are in the park; these were fed from vents radiating outward from Mount Mazama. Most of the park is heavily forested, but there are a number of ash- and pumice-covered, treeless flats. Sparse understory of trees or brush is in the mature forests, and most of the terrain is open and parklike. Where natural forest fires have occurred, there are thick stands of lodgepole pine, manzanita, and snowbrush. Steep-walled canyons along Annie, Castle, and Sun Creeks expose the thick deposits of ash and pumice and contribute to the ruggedness of the terrain.