Print Friendly
The Botanists at Crater Lake National Park by Elizabeth L. Horn
Kalmiopsis Volume 12, 2005 31
 Introduction
Even before it became a National Park, Crater Lake attracted botanists and amateur plant enthusiasts. Early botanical explorations may have been inspired by William Gladstone Steel (1854-1934), who is often called the founder of Crater Lake National Park. As a teenager, Steel moved with his family from Kansas to Portland, Oregon. In 1894, he founded the Mazamas (an intrepid group of Portland mountaineers), who held their annual summer encampment at Crater Lake two years later. Steel invited numerous dignitaries and members of the scientific community, undoubtedly to enlist support for national park status for Crater Lake.
Among the invited groups was the National Forest Commission, responsible for making recommendations for legislation and management of public lands known as the Forest Reserves. Steele met them in Medford, Oregon, and traveled to Crater Lake with them to the 1896 Mazama meeting. The group included Gifford Pinchot (later to become first Chief of the Forest Service), Dr. Charles S. Sargent (Director of the Arnold Arboretum, Harvard University), and John Muir (champion of Yosemite which became a national park in 1890) (Applegate 1939). Even though inclement weather ended their camping trip after only one night, Pinchot was awed by the natural beauty and later helped Steel have Crater Lake designated a national park (S. Mark, pers. comm.).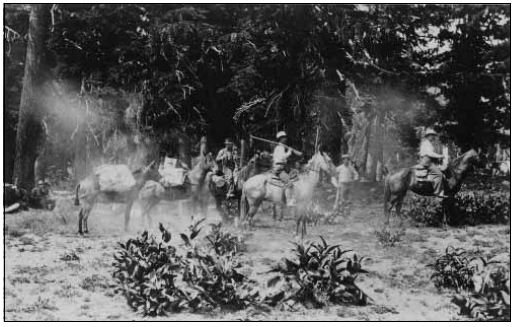 Hart Merriam, Chief U.S. Biological Survey, in lead on horseback, followed by his assistant Vernon Bailey on horseback at Crater Lake in August 1896. Photo courtesy of Crater Lake National Park.
— next >>