Print Friendly
The Rustic Landscape of Rim Village, 1927-1941
 Introduction
Historical Overview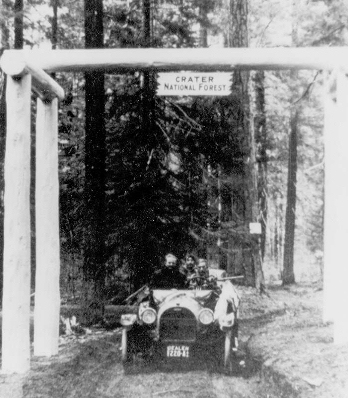 On May 22, 1902, Crater Lake became the nation's sixth national park. It was set aside as a "public park" and "pleasure ground" to ensure the preservation of a unique resource for the benefit and enjoyment of the American people. Charged with oversight of the new park, the Department of the Interior set out to develop basic visitor services and access to Crater Lake. In spite of the park's isolated location in southern Oregon and limited operating funds, significant progress and site improvements were underway almost immediately.
Roads were one of the earliest concerns addressed. By 1905, the Department of the Interior had constructed a "steep and tortuous" road following a ridgeline west of Garfield Peak, that led up to the south side of the crater's edge. This early access road proved essential in the next development effort along the rim of Crater Lake — the building of a hotel.
Addressing the need for overnight lodging, the park concessioner undertook construction of Crater Lake Lodge in 1909. Following examples set in other national parks, the concessioner selected a location as close as possible to the main attraction in the park, and sited the hotel near the edge of the caldera wall, overlooking Crater Lake. The lodge opened for business in 1915. In conjunction with the building of the lodge, "Crater Camp," complete with tent cabins, opened to the public to provide accommodations for the park's growing numbers of auto-touring visitors.
Despite these improvements, visitor services at the rim remained nominal. Like other early parks, Crater Lake suffered from a lack of funds, personnel and a long-term direction for development. The establishment of the National Park Service in 1916 provided some impetus for change, and appropriations were put in place for various projects in the park. The entry of the United States into World War I, however, slowed progress and while park staff did increase at Crater Lake, road improvements and other construction projects were undertaken only in a limited way.