Print Friendly
Historic Resource Study, Crater Lake National Park, Oregon, 1984
VII. Concessionaire Development of Visitor Services
C. Cafeteria and Cabins Added to Rim Village
On December 7, 1922, a contract was entered into between the Department of the Interior and the Crater Lake National Park Company initiating a new twenty-year lease to maintain hotels and other facilities, for tourist accommodation in the park. In 1927 a number of important decisions concerning future development at Crater Lake were made by the superintendent of the park, National Park Service Assistant Director Horace Albright, and other staff officers and representatives of the Bureau of Public Roads. One major action was approval of a general plan for rim area development, whereby the concessionaire would construct and operate in the next year a cafeteria, with a connecting general store for the sale of camp supplies, and a small group of rental cabins in the campground area away from the rim edge. By the 1928 season the new cafeteria and cabin group were a reality, the housekeeping cabins opening on July 15 and the new cafeteria on July 20. The latter was a large stone building housing food services, a store, and a photographic studio. Tent cottages were available on the lodge grounds as well for cheaper accommodations. Also during the 1928 season a new awning-covered veranda was constructed on the lake side of the lodge.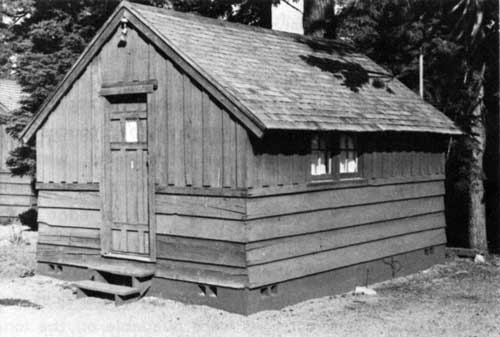 Illustration 11. Cold-water cabins behind cafeteria.
A brief summary of construction activity from 1922 to 1938 written by the park concessionaire mentioned that
In 1922 when our plans were drawn for the addition of the Lodge, the plumbing was put in at that time for the laundry plant. We started our building program in 1923 and continued until 1929. During that time the frame work of the Lodge was completed, the twenty-two cabins and the Cafeteria and Store. In 1929, the beginning of the depression, we stopped all new construction and did not start again until 1936. At that time we completed all of the rooms on the third floors [of the lodge] and in 1937 all of the rooms were completed on the second floor. Also during this time, all of the rooms in the older part of the Lodge were papered and painted. [5]
During World War II, the lodge and associated buildings were closed down, the Crater Lake Company deriving no revenue from the property. After January 1, 1941, improvements by the concessioner included construction of two deluxe cabins containing eight single units and refurnishing of the old cabins. In 1948 the twenty-two sleeping cabins near the cafeteria were described as single rooms, twelve by sixteen feet, equipped with cold running water, oil heaters, electric lights, one double bed with linen and blankets, and two half beds with linen and blankets. There were also deluxe units, containing four rooms each. Maid service was furnished and each room was equipped with hot and cold running water, electric lights, a private toilet and shower, automatic hot water, thermostatically controlled heat, one double bed, and two half beds.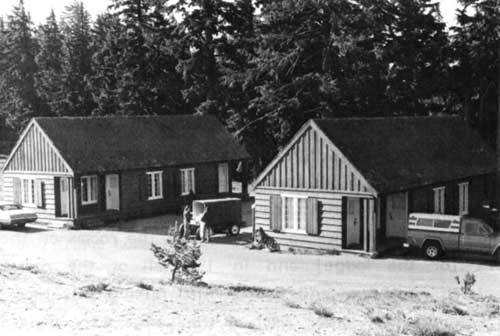 Illustration 12. Four-plexes behind cafeteria. Photos by David Arbogast, NPS, DSC.