Print Friendly
Historic Resource Study, Crater Lake National Park, Oregon, 1984
X. Construction of Government Buildings and Landscaping in Crater Lake National Park
D. Headquarters Moved to Government Camp
In the spring of 1923 it was decided to gradually move the administrative headquarters to Government Camp, about a mile below the rim road (via the old road) and now the site of the present administrative center at the upper end of Munson Valley. Annie Spring would then serve only as an entrance station. Early in the season it had become apparent that visitors preferred accommodations with a view of the lake, so the Crater Lake Company, which ran both the lodge and the Anna Spring Camp, moved its tent-houses from the camp to the rim. A temporary shortage of water there would be remedied by installation of two more 20,000-gallon storage tanks. Also in 1923 a combination mess hall and bunkhouse, measuring twenty-two by forty feet and costing $1,500 with plumbing and hot water, was erected at Lost Creek for the convenience of early and late tourists arid two new toilets were built at the rim auto camp, plus a large septic tank. Two toilets were built at the Annie Spring auto camp and a large barn that could easily be converted into a warehouse. A seventy-foot log boat landing was built at Wizard Island, and a new bear-proof meat house and large Latrine at Government Camp. [17]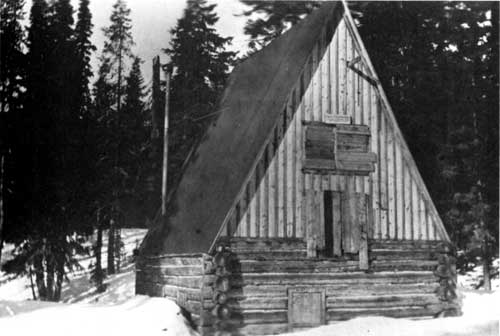 Illustration 30. U.S. Army Corps of Engineers camp, rim road, at present headquarters site. Mess hall building. Owned by NPS, built by War Department, 1914. Kitchen and mess hall on first floor, sleeping quarters on second and third floors. Photo ca. 1917. Courtesy Klamath County Museum.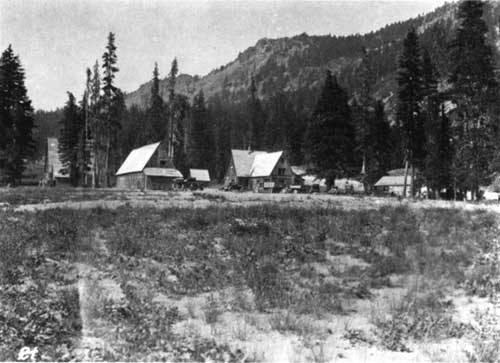 Illustration 31. Government Camp (new park headquarters), pre-1930s. Courtesy Crater Lake National Park.